Thru Hike of the Smokies…..
When backpacking there are 3 "truths that remain self evident"
If my calculations are correct 1+2+3=Hypothermia. Thing is, being outdoor folks we know this, but with extended periods of absence from these so called elements we inevitably forget. Now I know you're sayin to yourself "if your well prepared these truths don't matter"…well, if you were thinkin you
wouldn't
have thought that! Don't kid yourself, everyone succumbs to something, none of us are made of stone.
I've been thru and around the Smokies all my life, family camping trips growing up, afternoon joy rides, etc…I remember dropping a quarter on the machine to see the live chicken dance in Cherokee, and I have more than one cedar made souvenir painted with a black bear and scribed with SMNP. I've read about Keptharts time on Hazel Creek, and spoke to many old timers who remember their granddaddies driving cattle in to the smokies to free graze in spring. The Smokies:
I've
read a lot and saw a lot, but have yet to go wanderin deep in her bowels like we were about do.
Preparing for this trip, I made a big to-do over my food…wanting to keep myself well energized and at the same time not carry Ingles with me. When it was all said and done I was at about 12.5 lbs for a easy 7 day trip. Preparation for the rest was gravy…minus securing permits and shelter reservations….never knew walking in the woods could be so complicated. So with bags packed, permits paid for and vacation from work secured we were off to Fontana.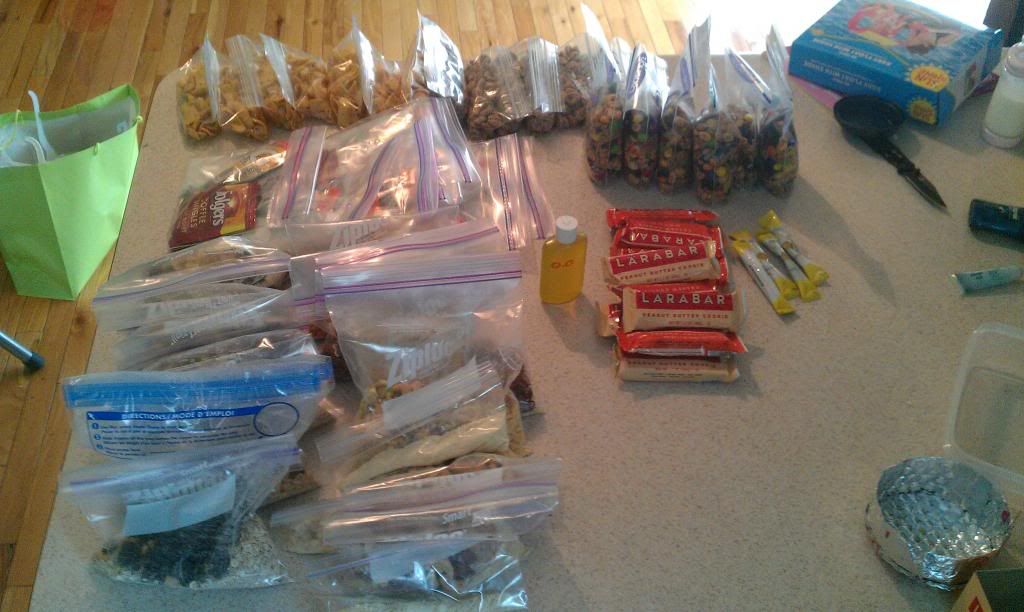 1 weeks worth of goodness at 12.4 lbs
Weather was forecasted to be rain most of the week and we studied on just postponing this trip, but our sense of adventure pushed us to press on. Fresh out of the truck, and not even hiking we had to dawn our rain gear, spirits were high so we crossed the dam and hit the mountain hard.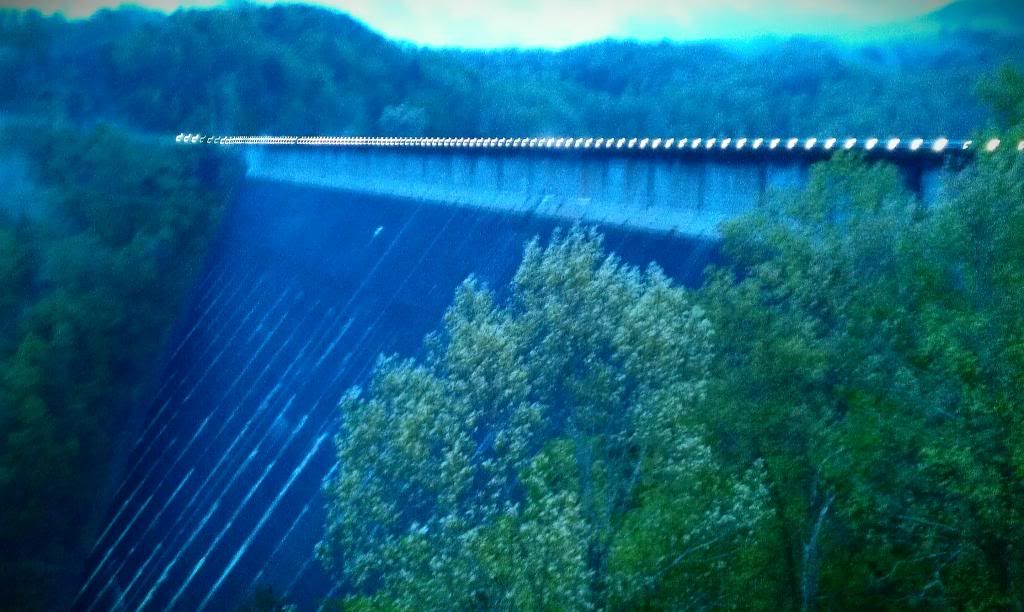 obligatory Dam Pic
Buy a poncho they said, its rain gear and a pack cover they said...I say its a garbage bag made with expensive material that will cause you to sweat yourself to dehydration!!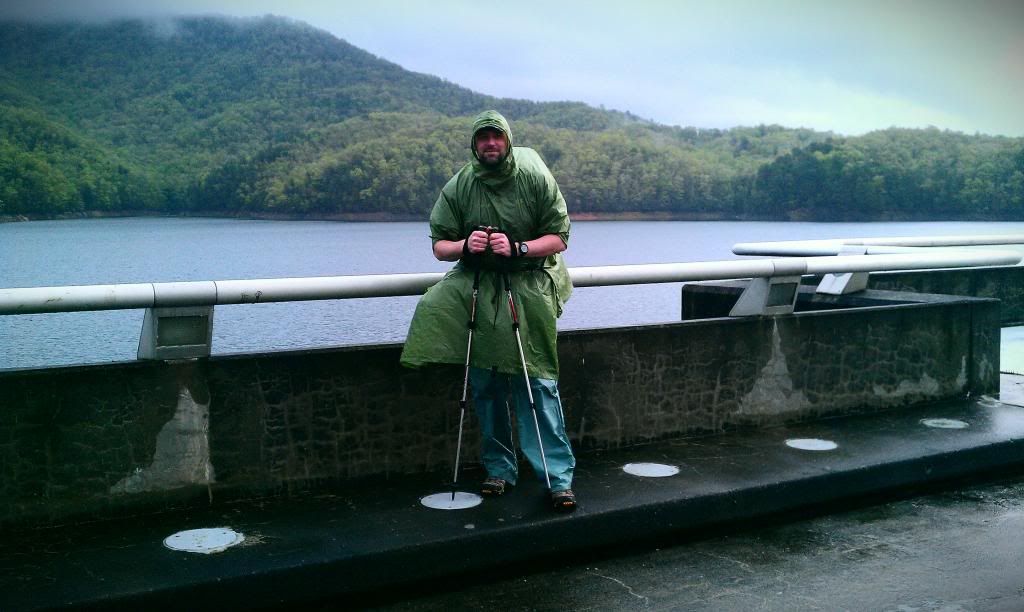 Jasonb and poncho...good for braves game, fairs and covering firewood...not so great for hiking.
We climbed and it rained….we climbed more and it rained harder….we climbed higher, the wind blew and it continued to rain…we climbed a little more and the trail became a river…. the wind blew faster and the rain fell harder!!!....oh yeah..it started getting cold to!...so to summarize this trip it was…Cold…rainy…and windy! I was soaking wet from sweat, to keep from freezing I
didn't
stop to eat or drink or pee or rest or take pictures….we just walked and talked about the rain, the wind, the cold, and the climb.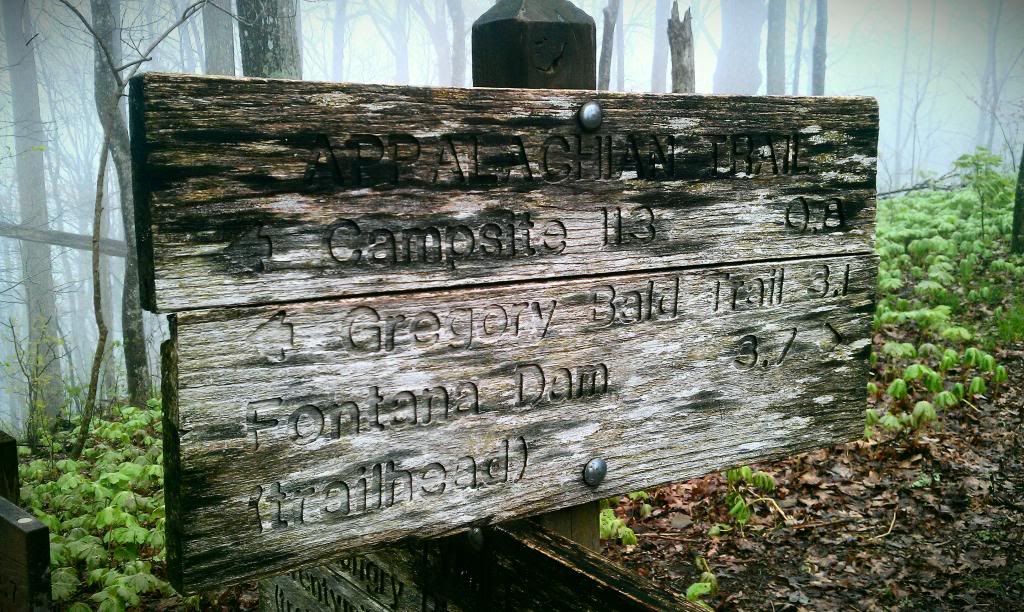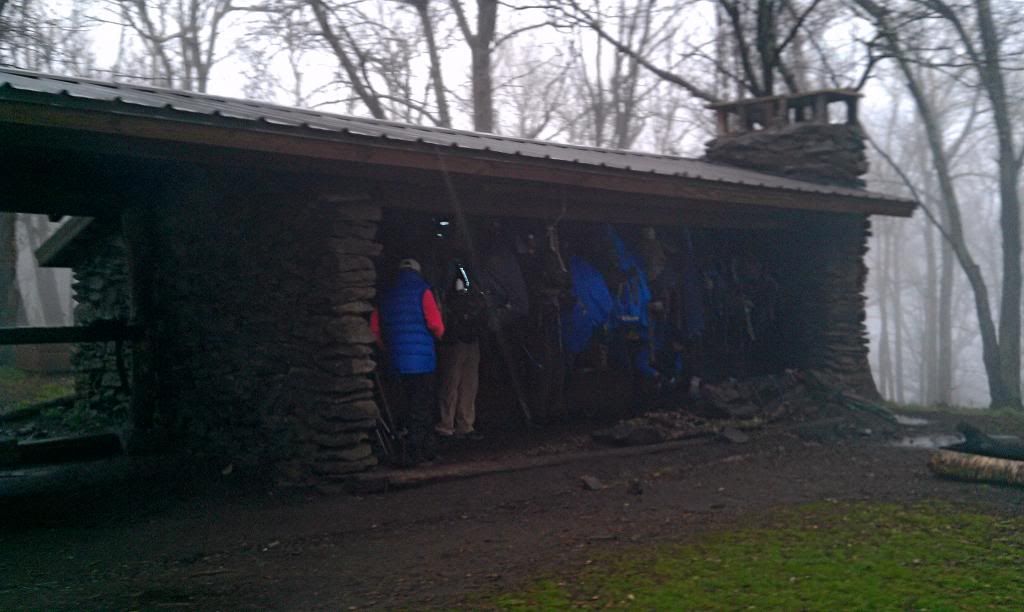 Mollies Ridge Shelter
Mollies Ridge Shelter (first shelter in the smokies) sounded like a 5 star hotel to me. I hate shelters, but I
couldn't
wait to sit down out of the rain and wind to eat and drink. I was cold, hungry, thirsty and wet. Reservations were for the next shelter about 3 miles north but we needed to refuel, (big mistake) looking back we shoulda pushed on, resting at Mollies ridge gave my mind time to help my body relies just how miserable I was. We consider staying here but our reservations were for the next shelter and the Ridge runner suggested we move on. So we did. Up the next good pull my mind quit me…your to cold and hungry to push on it said, and being weak and hungry I gave in. Turning around we walked back to the shelter, the ridge runner was persistent in telling us we
couldn't
stay, we finally told him we 'WERE GONNA STAY"!!...and he should "STOP TALKING ABOUT IT CAUSE IT
WASN'T
GONNA CHANGE ANYTHING!!!!!!" he then understood we meant business and he finally gave it a rest. After drying off and settling down in my quilt to warm up I looked at my watch and it was only 2:30!...With all the fog and weather, I had assumed it was 5 or 6 pm.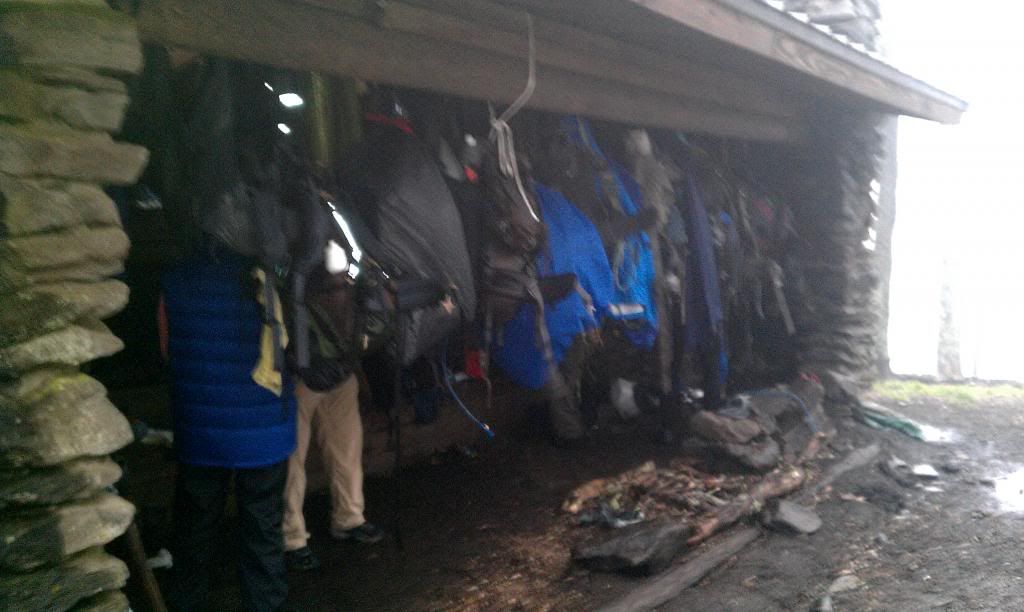 Shelter got crowded early on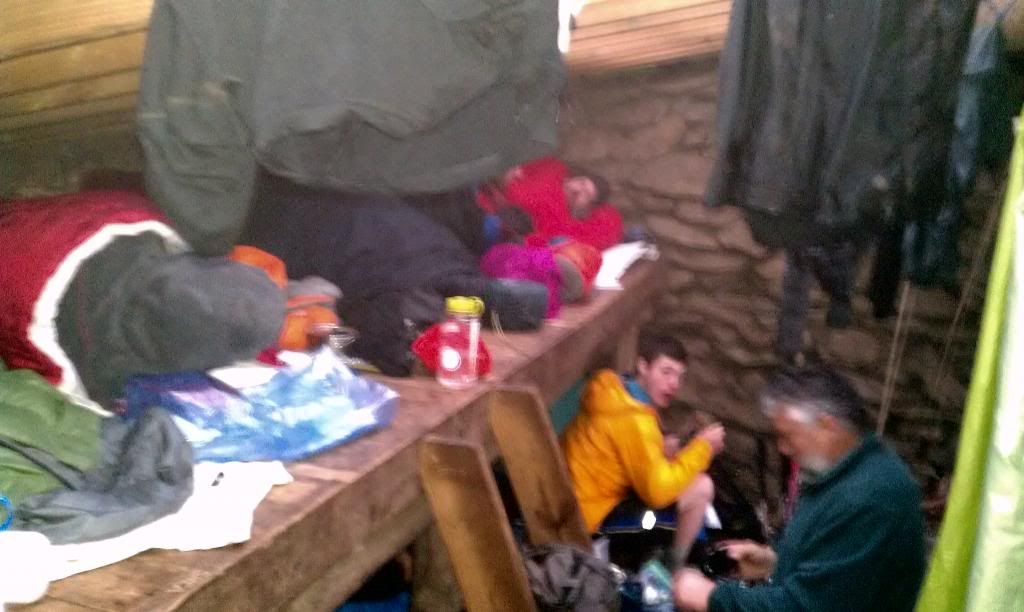 a rude Yankee cooking beans in the shelter
Wet and cold people kept rolling in hour after hour, ill prepared and
hypodermic
they shivered and stuttered. Byers and I boiled water to help get their dinners going so they could recover and warm up…it was a bad scene and I was terribly worried about one lady who
couldn't
even talk. She crawled in her bag, we made her a warm drink she
couldn't
even hold but she woke up the next day so I guess it turned out ok. Misery does love company…
I've
heard that a thousand times but this night it rang true…nearly 30 people packed in
Mollies
ridge shelter that night and not one person complained cause it added warmth.
The next Morning (still raining…still pouring and still cold) the ridge runner encouraged folks to get off the trail because the forecast was the same all week. Byers and I hem-hawed around about what to do. Finally we reluctantly decided to hike out go back to work and save the vacation for a nicer week….come October when we re-trip, I hope to have a slightly more upbeat report!
Ill leave you with something good atleast...a few interesting links
about
the smokies
….
thats
all I have to say about that!