Rock Gap to Burningtown Gap
Gobble…Gobble…BANG!!!!...A familiar sound in late march for most of us folks who enjoy living, working and playing in Appalachia!

Typically the arrival of spring brings dreams of bagging that big strutting gobbler that was just too smart to call in last year or, that once in a lifetime rainbow that slipped out of your hands when you were removing the hook from his mouth.

Well, winter has been dragging her feet around these parts

and Ingles has a sale on Turkey so I reckon that's a good a reason as any to go wandering thru the woods without my gun. As for that trout, we have a date for another day; besides, the rivers are so crowded with out of towners, you'd have to bring your own rock to stand on.
Since you nice folks suffered thru my redneck oozing introduction I'll get on with the trip report, but, one last thing. If you're from the south (praise Jesus) football is born into your blood, being so, it is the only way I can describe the development of this trip. In any given football season you can hear a head coach talking about "playing it one game at a time", or my personal favorite, "we realize they are a div II team, but were not looking past them."

……the dreaded TRAP GAME is what they are referring to. For you non footballers a "Trap Game" is when you have a big game two weeks out and you kind of look ahead and don't quite prepare yourself for the lesser opponent you have for that week. It's inevitable!!! It always happens, and it happened to me. ….
Rock gap to Burningtown gap…seems easy enough, but, with a thru hike of the Smokies coming up in a few weeks, this short section turned into my "trap game" , not that I was Ill prepared( ok, not totally i.e. headlamp batteries), my heart just wasn't in it, I was looking ahead and partially missed what was right in front of me…such is life I guess huh?
You know the routine, meet at McDonalds, grab a biscuit, shuttle trucks to start/ finish areas..I'll spare you all those boring details. Rock Gap…our starting line and where we finished our last section, would be the parking area for this section,

just up the road from standing Indian campground.
Rock Gap Parking Area
Out of rock gap this trail started out fairly mild….We meandered for about a mile or so talking gear and food before we encountered any type of elevation change. Since we were both wearing new "summer" Hiking shoes,
Byers
in
Vasque Velosity 2.0
----and I was in a new pair of
Merrell Moab Ventilators
we pondered our first impressions of these high tech moccasins.
We progressed on down the trail and
Looking off to the east there was a good view of Franklin.
Franklin N.C
After crossing old Murphy rd we stopped at a really nice branch to fill up on water.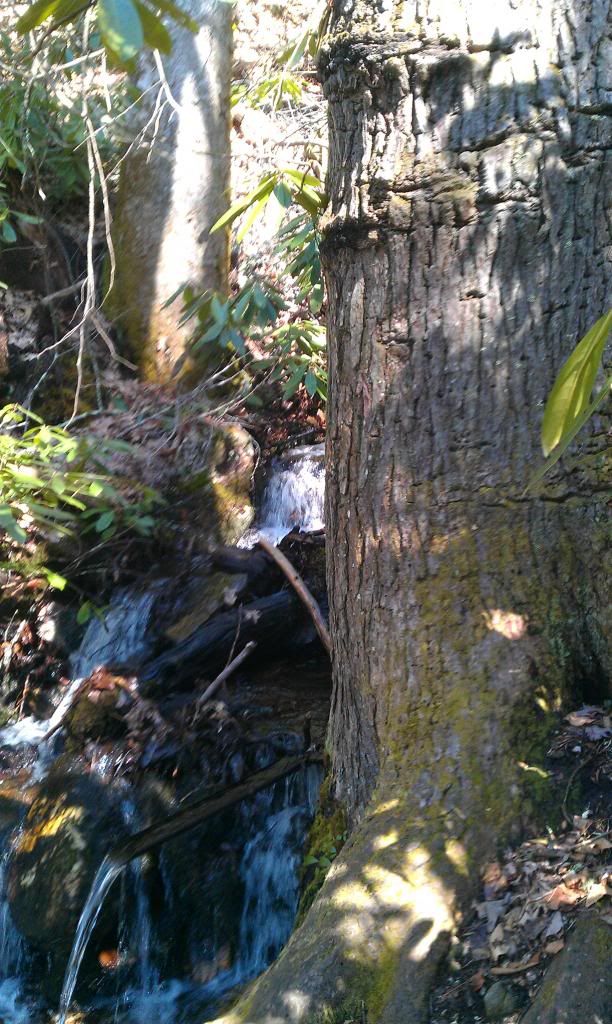 I had worked late the night before this trip and didn't get my usual water intake for the day; on top of that we got a late start and in the two hours of shuffling cars I hadn't drank a drop that morning either. Needless to say I was behind the eight ball already as far as hydration goes. I packed
aquamira drops
drops as opposed to a
filter
this trip and I found myself seriously considering knockin back a big ol horn of untreated water instead of waiting a few min for the drops to activate. I've drank from streams all my adult life while fishing and what not and for the most part never had a problem, there was one instance where I got
giardia
but I think it came from the well water at the house. Sooooo…not wanting to spend the majority of the next week sitting on every toilet I passed I decided to play it safe a wait a few min.
By now it was warming up, and we had done a bit of climbing, we rolled on thru Wallace gap and descended maybe 4 or 500 feet into Winding stair gap just up the hill from the big cut.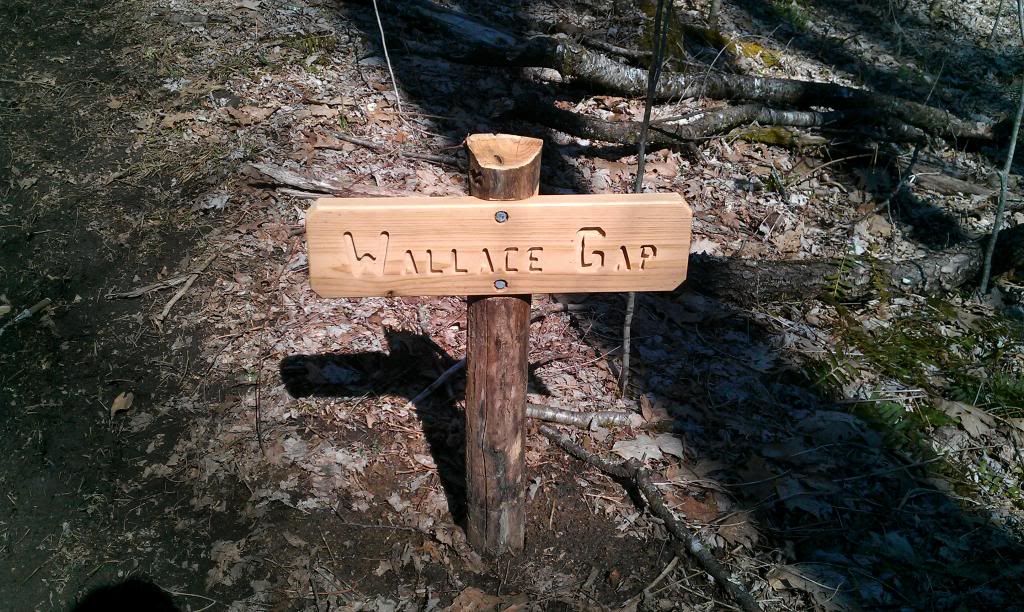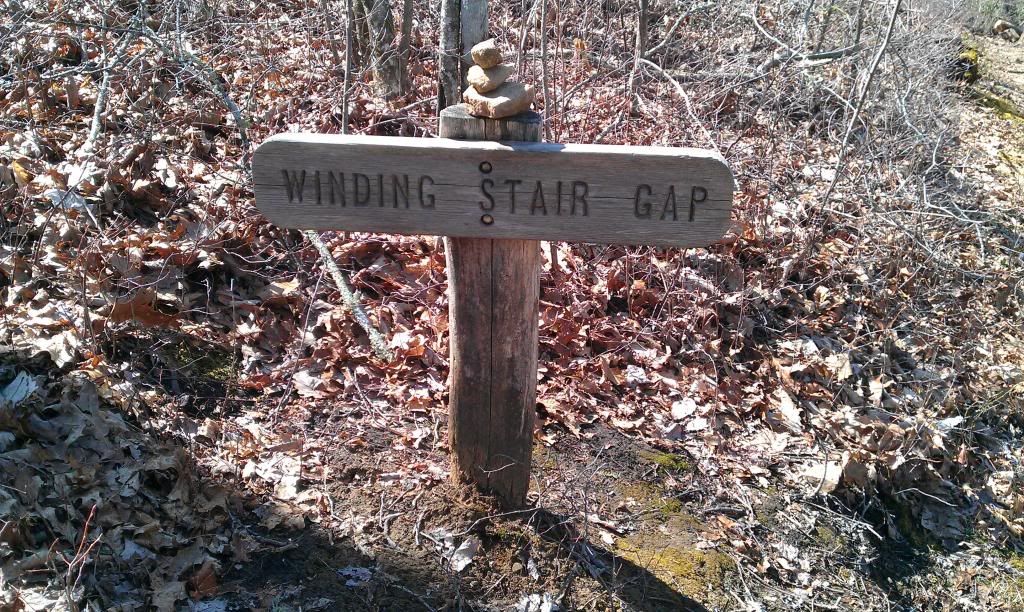 Winding stair gap parking area was full of some pretty awesome people from South Carolina. Wish I could remember the name of their hiking club, said they were between Seneca and Clemson I think..
Go Dawgs!
They were feeding the masses. We stopped and spoke with them for a bit, they offered us food, beer, cokes, candy….you name it they had it. I took a particular liking to this one older fellow that was wearing a coon skin cap and had "backer juice" all over his mouth.
He took a liking to
+Jason Byers
cuben pack
, he pulled and tugged on this "space age materials" and I couldn't help but snicker at the look on Jason face. (Hes pretty particular about his gear)
feeding the masses all the way from Senica S.C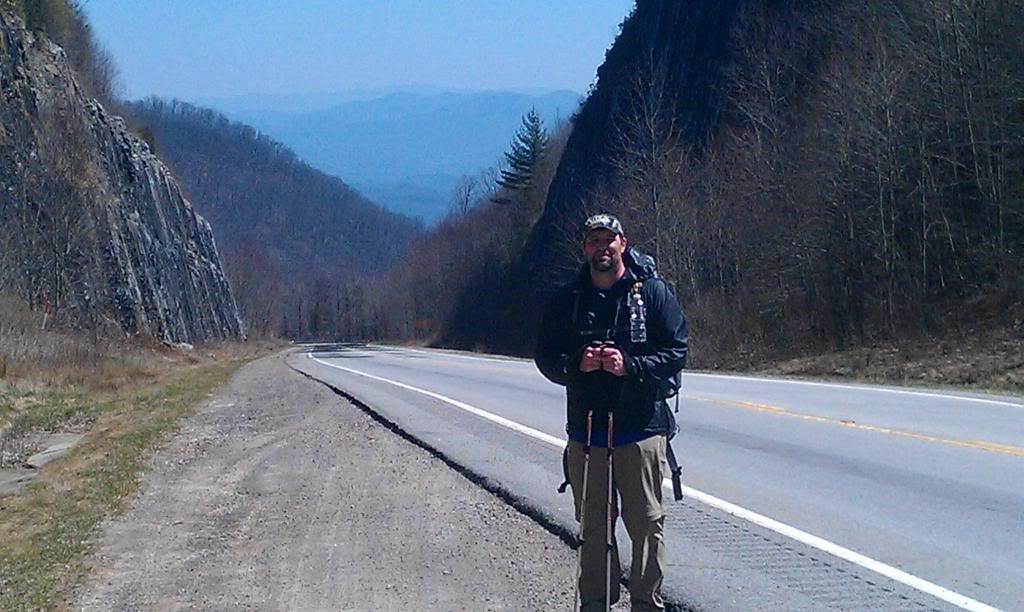 Me up the hill from the big cut


After crossing Hwy 64 we hiked down just a tad and stopped by a small waterfall with a footbridge.
Byers
had a major malfunction with his heel talons….apparently when you have prehistoric feet good fitting shoes are hard to find. I murdered a snack attack and dropped my
wind shirt
and pant legs in my pack while he did some doctorin on a couple of shiny new heel blisters.
Luckily just loosening his shoes a bit cured his ailment. After seeing this sign I helped myself to an luke warm coca-cola.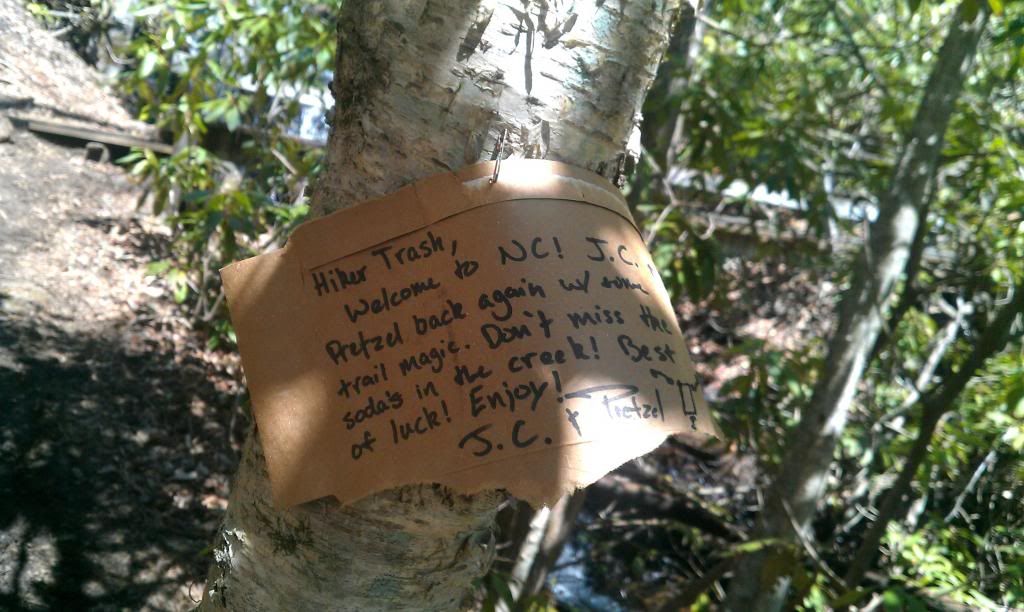 We hem hawed around there for about 30 min….briefly spoke with this strange fellow from Michigan I believe he said. He allowed he was a Navy veteran and after that I started feeling kind of bad for labeling him as strange. Sometimes I'm bad for being quick to "peg" people you might say, but I try to remember you don't really know what hardships some folks may have gone thru that kind of shape who they are. He and Byers (being a former Navy man himself) shared a couple of quick stories and then we were on our way.
Over the next 6 miles or so the trail was a steady climb, previously I read this trail was strenuous, I don't know if I'm getting in better shape or if it's been overrated but it didn't seem all that bad to me. Blowing thru what I think was Swinging Lick and then Panther Gap; we had our sights set on Silers Bald.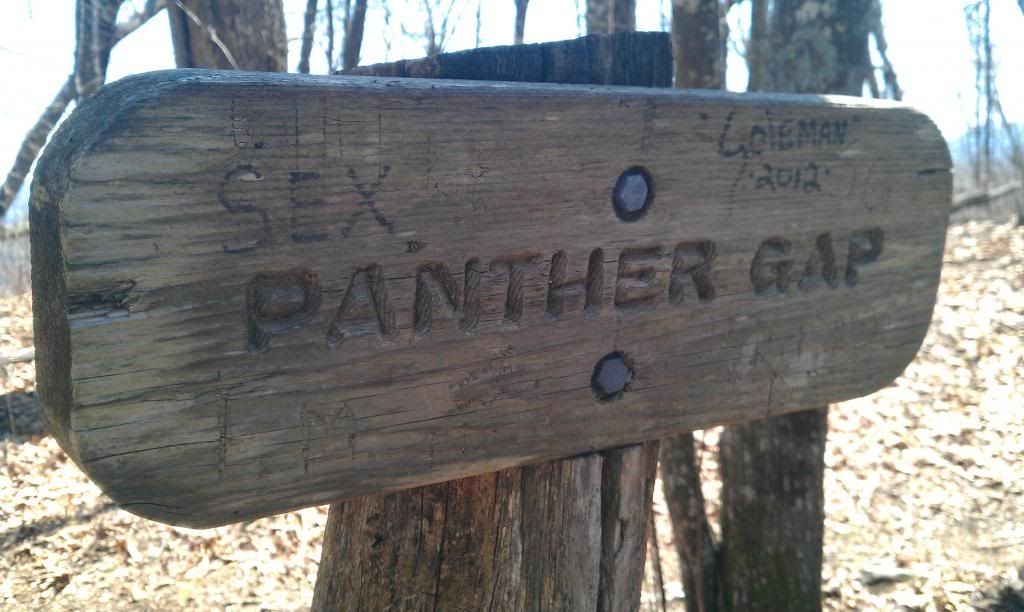 works 60% of the time, every time
Heading up the trial to
Silers Bald
bald was fairly uneventful, we didn't pass near the amount of hikers that I had figured we would. Still in a steady climb we passed the trail leading to Silers Bald shelter. Typically I stop and get pictures of Shelters and such but we had a good pace so we pressed on about another mile to the bald.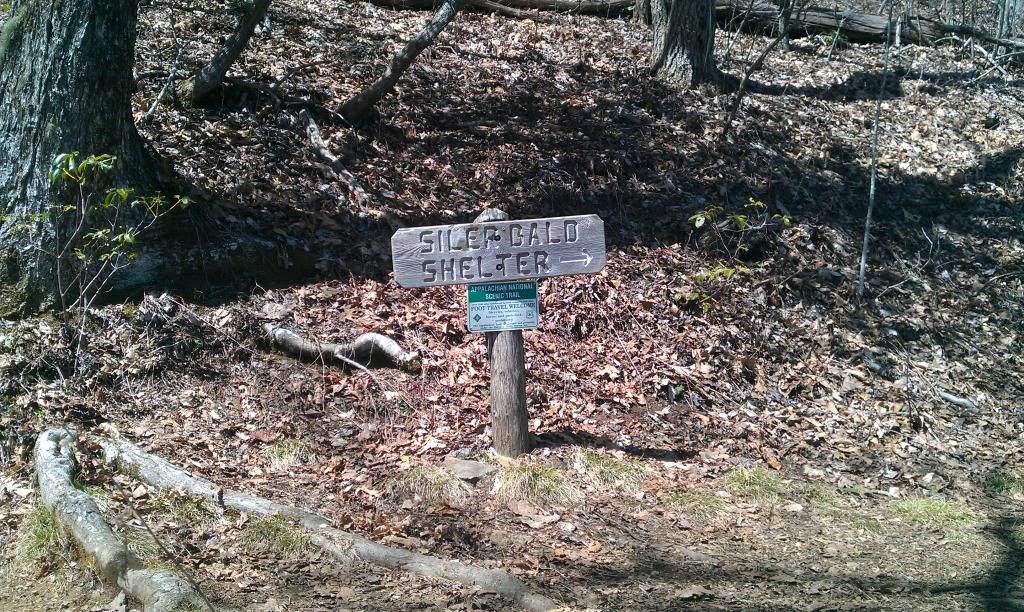 Balds have always fascinated me…….an acre or two of grass in a Mountain range full of thick hardwoods and laurel hells just looks out of place. I guess there are theories of these places being a natural phenomenon; some say they were cleared by early white settlers. Some old timers say they are caused by lightening or even bugs. I think I'll stick with all of the above….it seems too weird for these things to be here for just one reason or the other. Heck, maybe God created em for the benefit of the wildlife and they have been here since the beginning, who's to say?….somethings just are, cause they are…no scientific explanation needed!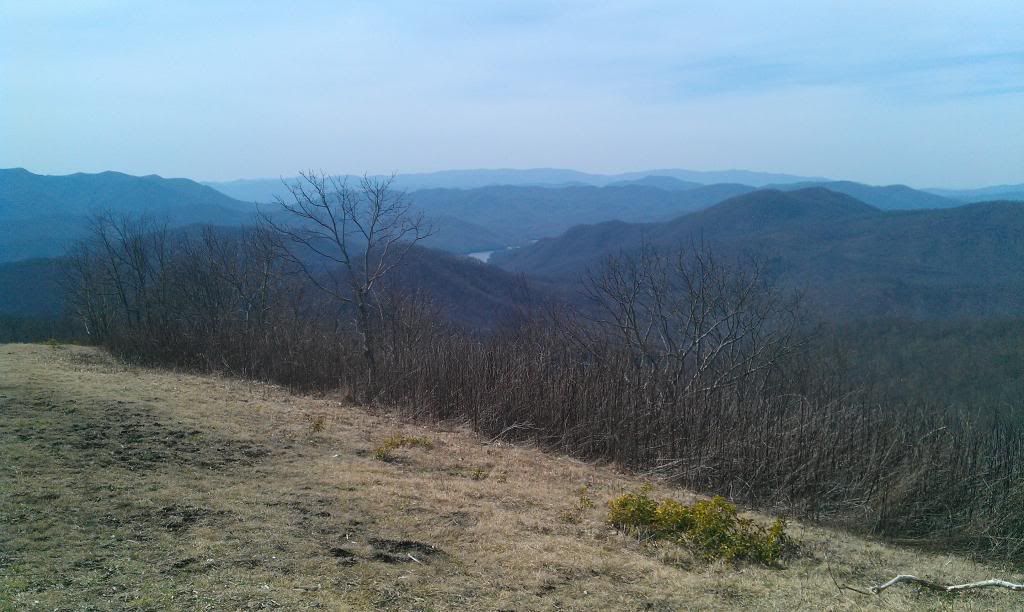 Nantahala Lake from Silers Bald


Hiking the couple hundred feet up to the bald seemed harder than the last few miles for some reason. Probably because I was still not well hydrated, and in our scurrying along we opted out of a couple of water sources. It wasn't too crowded, but it was good to see some day hikers with several kids up there. I can't wait till my youngins are old enough to spend some time out in the woods.

Met a thru hiker there named Turtle….we talked for 15 or 20 min and he was just enjoying the view. After our chat it was obvious he was envious of our small overnight packs because he said as much………………..he was from Texas and appeared to be a little frustrated , I don't know why he was but I hope he finishes his journey.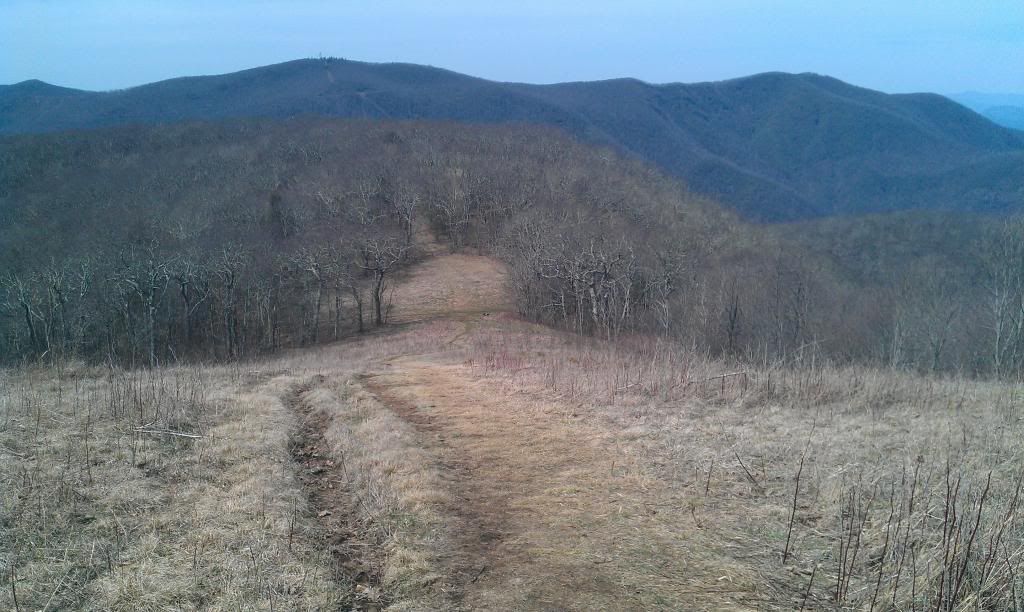 walking down off Silers Bald
From here we skedaddled on down the mountain to Wayah Gap, we stopped to fill up on water at a small branch and crossed another lil ol footbridge.
After having a standing snack, we decided to push on up the mountain, the trail ran parallel to USFS rd 69 for quite a while, It was fairly decent climb and we passed several folks with camps already set, it seemed a bit early to me, but heck, what do I know. We strolled on by the Wilson Lick trail/Historic site and crossed USFS 69.
Formally known as Wilson Lick
Not having a definite camp spot in mind we half way made the decision to stop on up the trail a bit and pitch our tarps and hammocks at the meadow by the old wine spring rd.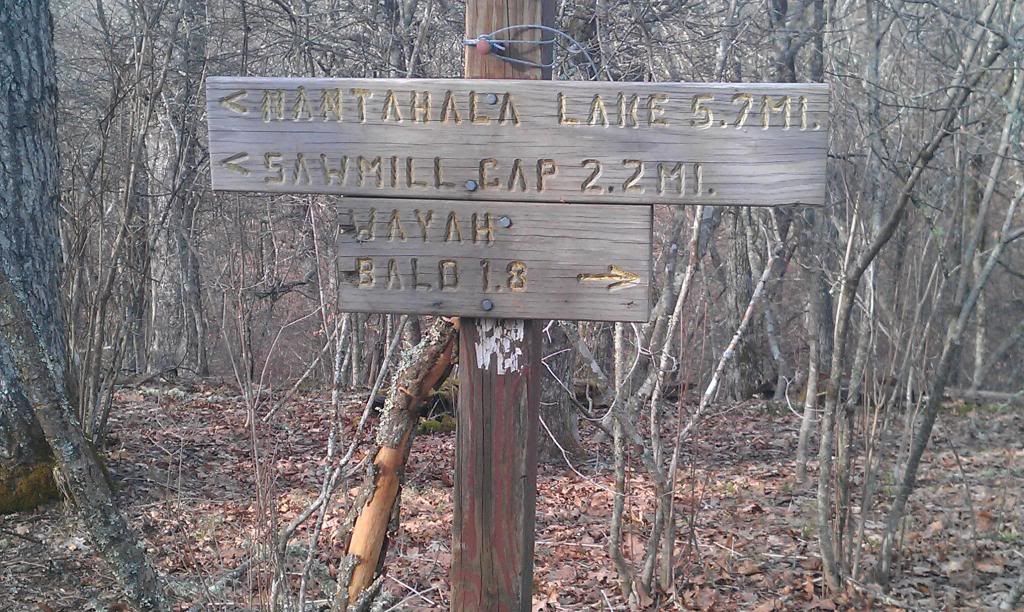 Upon arriving at this "proposed" campsite we ran up on about 4-5 young guys, they seemed a bit rambunctious so we pressed on deciding that maybe we would just leg it on out to Burningtown gap and head down the hill to Huddle House….Pecan waffles are a mighty strong motivator!!!!!
Headed up to Wayah Bald we blew rite by a side trail that lead to Winespring Bald…wish we woulda stopped there but we planned on stopping at Wayah
and not wanting to spend too much time hiking in the dark, so we just kept on a strollin. After making our way around the front of the mountain we came across a creepy patch of forest with all kinds of blow downs and not one live tree in site…I dubbed it the devils forest…it wreaked of death and I didn't like it one bit! It was an odd feeling there…hard to explain….I imagine it would be the same feeling you would get from robbing an old Indian grave. Not being one that's typically spooked, but this was different; I didn't even take time to snap a pic.
Cool air was settling in and we had made double time thru "the devils forest", so we stopped to put on the ol wind shirt and zip in our pant legs, after another snack we made our way up..up…and up to Wayah Bald.
rock tower on Wayah Bald

The wind was crazy up on wayah, but the views were amazing, looking back torward Silars bald it looked a lot closer than the hike felt…maybe the thought of pecan waffles and hot syrup were playing tricks on me.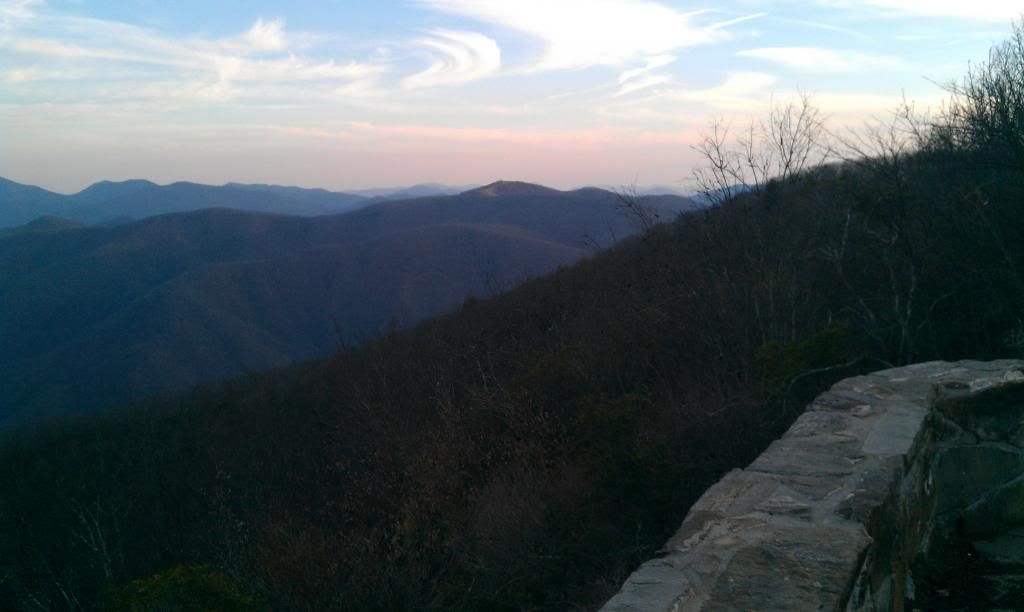 looking back at Silers Bald From Wayah Bald
Having a touch of cell service, I called the little lady and let her know we weren't camping and Id be home by midnight….after that I was definitely committed to finishing, not showing up at the house tonight would prob trigger a search effort unlike any known to man.
atop the Rock Tower on Wayah Bald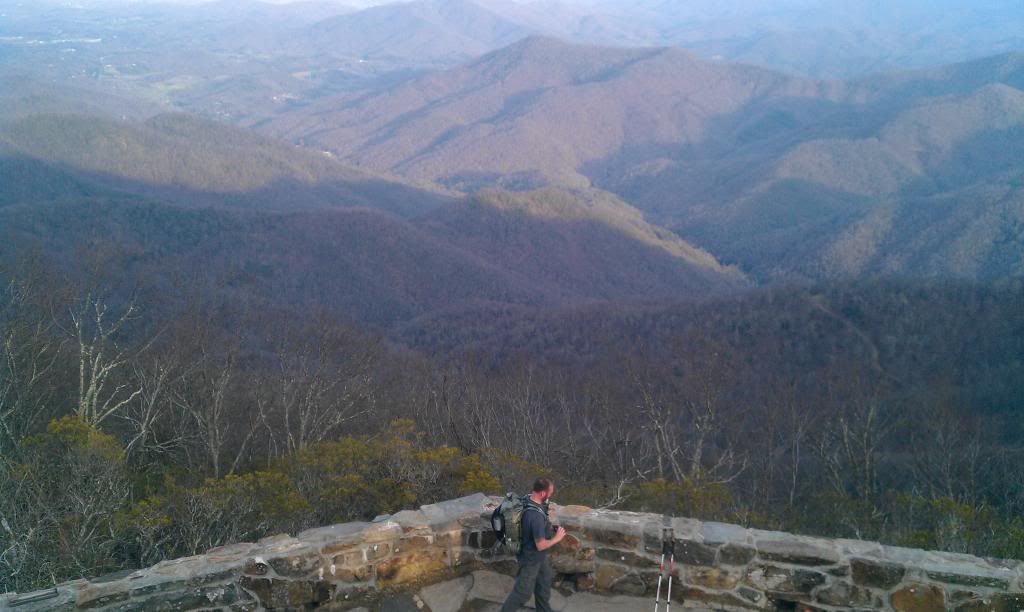 Jason Byers on Wayah Bald
Under a quickly setting sun we took off down the Mountain passing a very crowded Wayah Bald Shelter. With all the tents it looked like a refugee camp. Further down the trail we finally lost sight of the sun and pulled out the ol headlamp.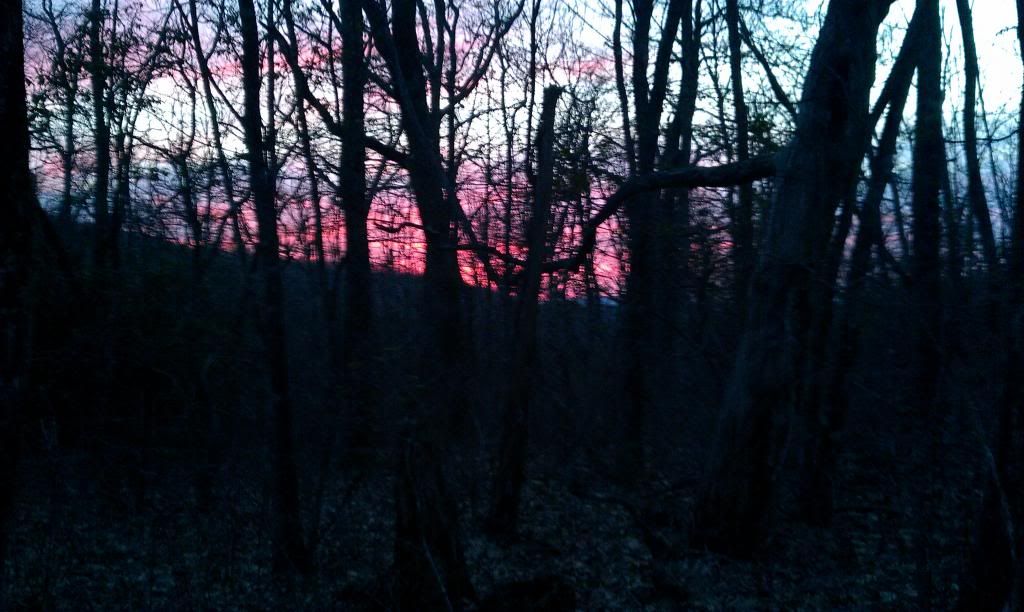 Reaching licklog gap, it was burnt match black outside, looking ahead to the smokies , I had forgot to put a fresh battery in my headlamp as did Byers….we hiked till our lights petered out, then whipped out the smart phones. (How did we ever live life without these rigs?) So the last two miles, trail vision was courtesy of HTC!....an hour and a half later I was wrist deep in a triple cheeseburger, hash browns all the way and a golden pecan waffle!!!
It was a good hike….rite at 20 miles when it was all said and done. It felt great to do some decent miles, but I have to admit I missed a few things I would have liked to see, or spent more time looking at the things I did see. Next time I'll have my mind rite…no more trap games….so, the adventure to find balance between accomplishments and enjoyment rages on.
Whether you're hitting the trail with your feet, a golf ball with a club, or that big gobbler with some #4 shot, I hope you find your balance! Accomplish big things…but," stop and smell the roses" along the way.
-saw em