Hogpen Gap to Neels Gap
Seems like lately these section hikes we plan as overnighters turn into incidental slack-packing trips. I reckon as the amount of mileage a man can endure increases, his need to set up camp for a 15 to 20 mile section decreases. Throw in an intense hunger, living close to the trail and a little missing the family and you have a recipe for slack packing. Sleeping out in the woods is one of the best parts about backpacking, and the last couple of trips I have missed it, but with a great desire to spend time with my family these trips will fuel my outdoor needs till our little family is old enough to go along with.
This short little 6.6 mile jump from
Neels Gap
to
Hogpen Gap
is all that was keeping us from checking Georgia off the list (and had been for some time) Originally the plan was to shoot on over to Neels from Hogpen head back north to the half way point and pitch camp early, that would have left us with a short hike out just in time for some sausage, eggs and grits. Up to this point we have been northbounders on our section hikes, this time we decided to hike south...cant give you a good reason as to why tho.
Pulling in to Hogpen early that morning we were greated by a round fellow from "Atlanta"...he commenced to telling us all there is to know about backpacking, equipment and all other means of outdoor knowledge...I'm still convinced he would have a hard time walking to the mailbox, but I would guess he's way to important to do so anyway....guess I'll exit this topic, but it will never cease to amaze me about the "experts" from the city I run into on the trail that seem to think I know nothing about the woods where I live, hunt, fish and roam...maybe its my own fault for just minding my manners and hearin folks out. Hopefully one day I'll bump into to someone who can give me some tips and advice on grammer and spelling...now thats something I could use!
This trip was fairly uneventful.....we ran into a couple of nice fellows that were also from Atlanta, they seemed pretty tired after just a few miles in, but were very excited this being their first time out. While we talked with them for a bit It was warming up and the black flies seem to be out in abundance.
We meandered down the trail taking our time hearing a boom of thunder every now and again and figuring on getting wet just about anytime. Next thing ya know we were dropping off into Neels gap just like that.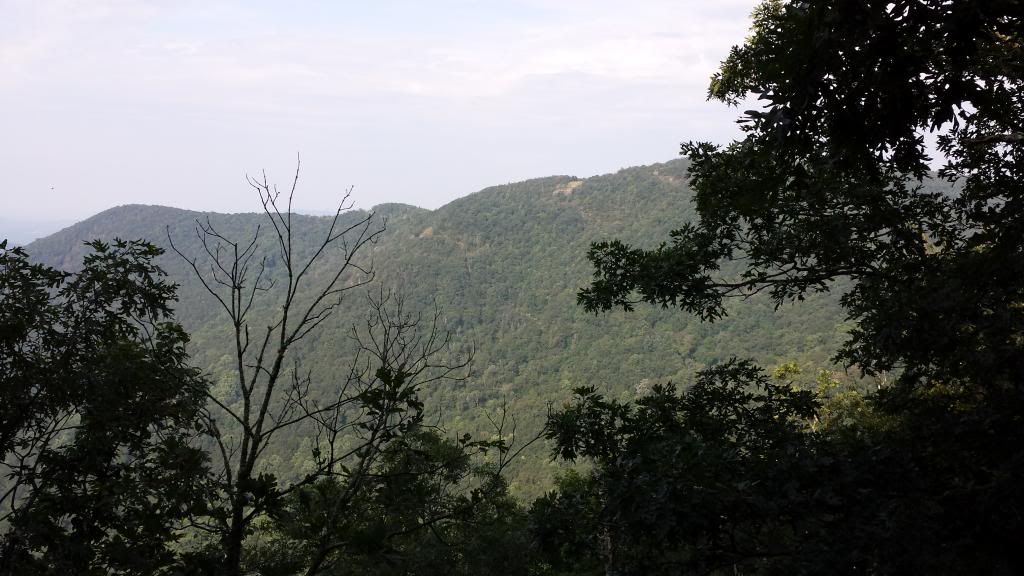 Levelland Mountain View
Borrowing the picnicking tables at Mountain Crossings we sat down for a bite...it was kinda nice having a cold coke-a-cola with lunch on the trail for a change. Watching people come in and out of the store and parking lot was dang amusing to..this one poor kid was car sick from riding over the Mountain....he was standing next to his parents car gagging. A couple of dudes that work in the store were standing at the door chanting puke...puke ...puke!!!...I couldn't help but laugh, and at the same time I couldn't help but to feel sorry for the kid. Thinkin back it reminded me of my childhood, riding threw the smokies in 70 chevelle with a old starcraft pop-up in tow, sittin on hot vinyle seats with a coloring book in my lap thinking oh laaawd im gonna ralph..... I always choked it down tho, knowin my dad wouldn't be so happy with vomit all over that fine automobile.I sure do appreciate the way that man put up with all kinda nonsense to get us outside and take us camping.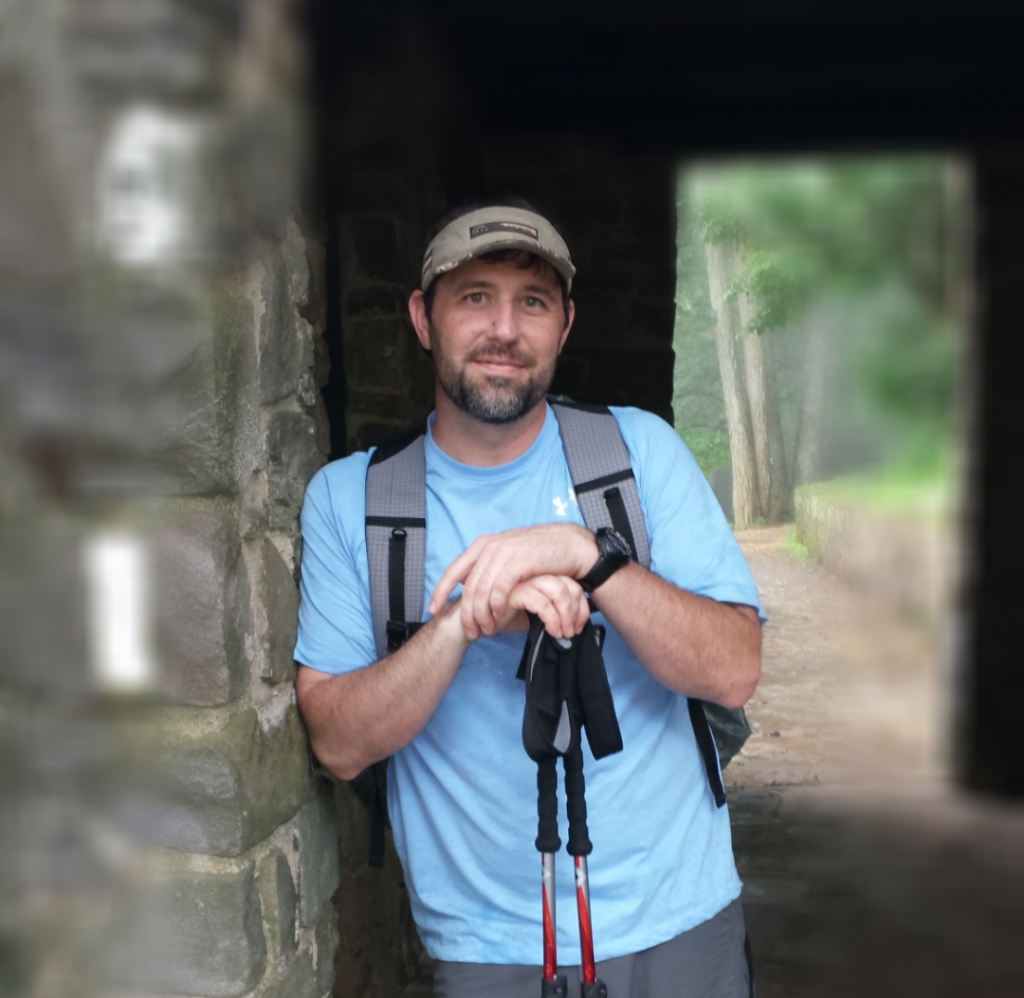 Jason B @ Neels Gap
Not long after lunch wrapped up the bottom fell out!.....it was a bonafide frog strangler! We duct under the breezeway and were no worse for the wear...still dry as a bone, dumb luck it happened that way..pure capitol D-umb luck. Talked to some good people waiting out the rain, a few hikers, a few bikers and even some cyclist riding
the six gaps
. After the rain slacked up a bit we donned our
pack covers
and took off back up the mountain. We stopped and studied on setting camp a couple of times but it was so early we just couldn't bare the thought of sitting around for hours on end with nuthin to do. Making camp at the shelter back where we started seemed like the thing to do.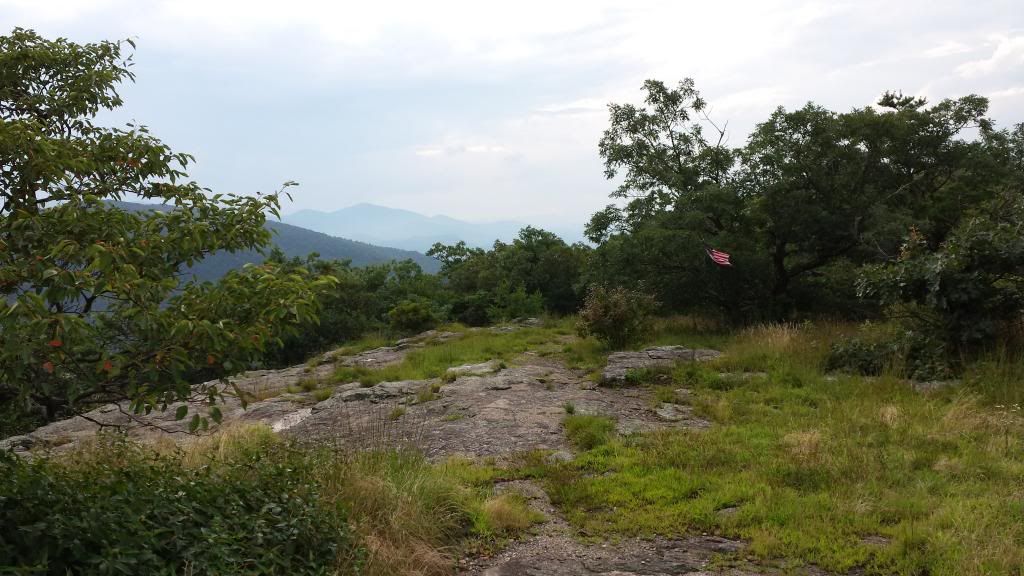 Wildcat Mountain
After coming back across Levelland Mountain and such, we took a right and headed down to the shelter, it was a mile and a half of the trail but it seemed like 10!...I will not be making that trip ever again, and I would advise such to anyone who asks my opinion..it aint worth it! To ice the cake on this whole shelter experience...as soon as we walked up there were to old dudes snuggled up in the shelter by themselves...now its 90 degrees in July in the south at 5:30 of the afternoon...and here sets a couple of guys in sleepin bags zipped up to their ears. I may not be the smartest cat you'll ever run across but c'moooon!!!..GOOD GOD MAN!!!...if that's your thing great!...but keep it at the house, or a motel!.,..nobody wants to see that garbage. It didn't take but a min to decide there were no suitable trees for hammocks, so we were on our way, heading back out to the truck..and gladly so might I add.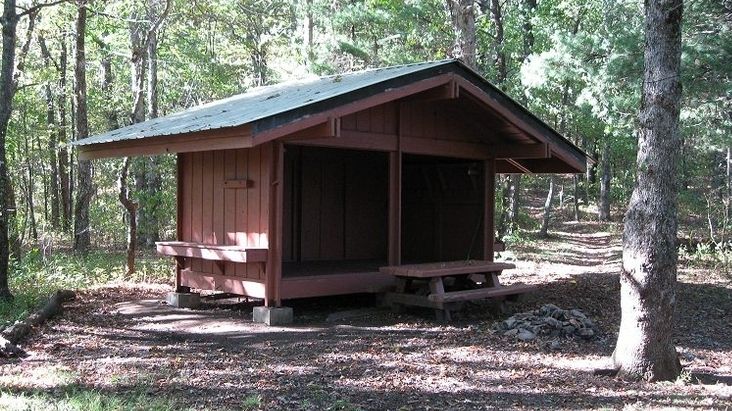 Whitley Gap Shelter
Back at the truck we loaded up and headed down the hill to Huddle House in Blairsville, not being satisfied by that we skipped across the road to top off the pattie melts that were just consumed with some Zaxbys chicken and a milkshake. It was a good day, met some great folks..good hiking and good fellowship.
This is a great section to hike, not to hard, but not to easy and you can make it as long or short as you like.
Slack-packing...day hiking.. thru-hiking...whatever your method, get out there and get some dirt under your feet!
-Saw em
jasonb