Deep Gap (via Kimsey Creek Trail) to Rock Gap
McD's in
Hayesville
would provide our pre-trip nourishment (if you could call it that) on a cold and rainy Sat morning, we lit out of there and headed up to
Standing Indian.
Our hike would start just a mile down the road so we hopped in the back of Dustin's truck and off we went.
Here we are at one of the super slick foot bridges, Dustin, Jason and Brent (in cowboy boots and jeans)
There were still a few patches of snow and some ice from the week before on the trail.
After arriving at the A.T in Deep Gap we hammered down a quick snack attack and checked our gear to see how damp it was from the steady drizzle. The
Golite Jam Pack
I was toting shed the water pretty good, I also had a
SitLight Pad
inside the top for structure and it helped keep the innards of my pack dry. From here we shoved off, up the A.T for the summit of Standing Indian. Ascending Standing Indian was about 1150 feet in a stretch of about 2.5 miles. Guess its worth noting that all my elevation a mileage comes from
The A.T. Guide Book
its been pretty much spot on.
Within a half mile we crossed yet another foot bridge (The Depot must've had a wicked sale on lumber back in the day) and a sign declaring this the Southern Nantahala Wilderness.
With a mild descent, we meandered in the fog for a few miles before arriving at Beech Gap.
Passed loads of these signs, but never ran across what they spoke of. Seems to me I never see a bear in the woods, but always see em when theres a fresh bag of trash to be had in the back of my truck at the house. Guess like us and McDonald's they're lookin for an easy meal too.
Stopped on a small rocky bald to answer natures call and saw this little marker tucked in the edge of the woods, it had a name and date on it but I cant recall either.
+Jason Byers
asked me if I would one day carry his ashes to the top of a mountain, I declined sayin I would prob just dump him in the toilet, pee and flush. We all had a good chuckle. We're pretty hard on each other but its all in good fun!
Where were we...ah yes, Beech Gap. This area had some nice tent spots and a decent water source.
Just before arriving at the shelter we passed Timber Ridge Trail to the west. It looked like one of the resident bears had been snacking on the Trial marker.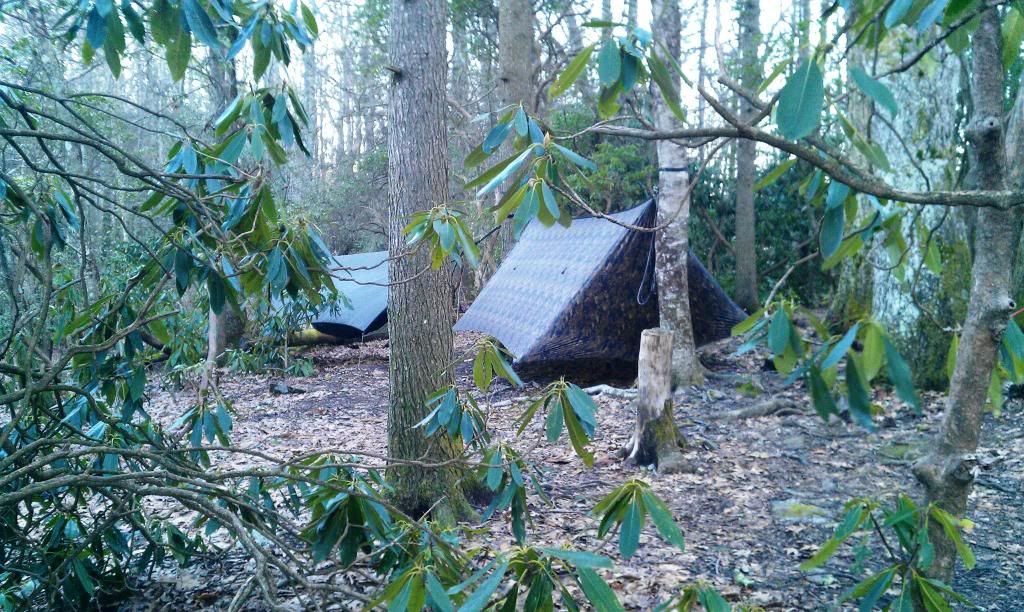 Warbonnet Superfly and a MacCats standard
Wondering through the mountains seems like hard work and there's a certain feeling of reward you get from it, but time at camp sometimes is what I enjoy most.
Jason Byers and Ethan from Hickory
Byers belly up to a saw briar and Dustins pure amazement at the feat
a futile attempt to burn wet wood
The next 4 miles or so were ridiculously easy, and with cool clear skies we were rewarded with some nice views.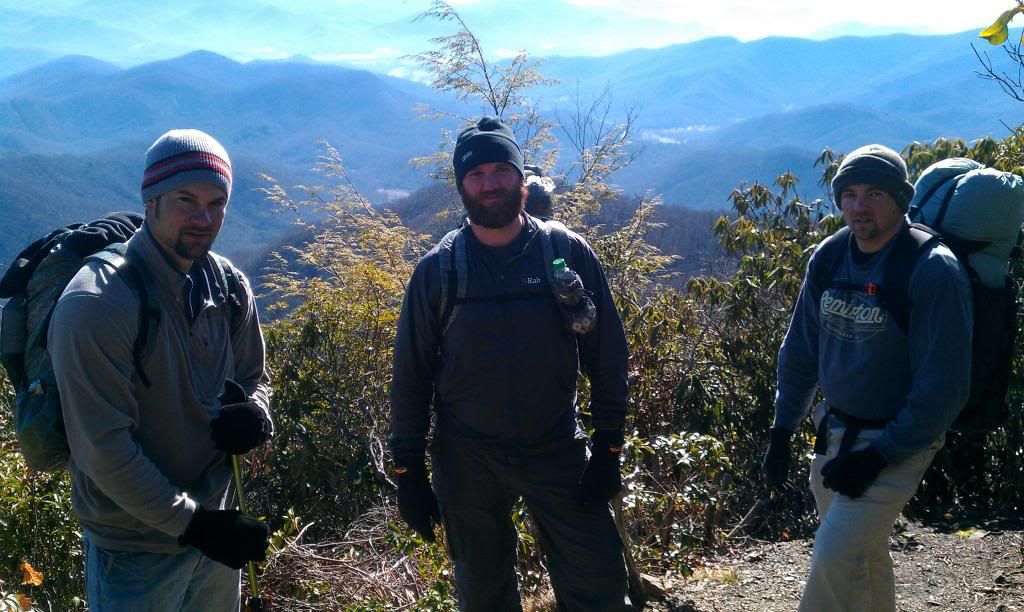 Brent Jason and Dustin
On this easy going section we descended around 600ft. into Betty Creek Gap, here we grabbed a quick snack, filled up our bottles and talked more about how we looked forward to the D.I.F climb up Albert!!
From Betty Creek Gap we slowly climbed a few miles into Mooney Gap crossing USFS road 83, we were north bound and down and looking forward to some good views.
This part of the trail had some great views and ran inches away from some sheer cliffs with vertical drops that looked like they were hundreds of feet.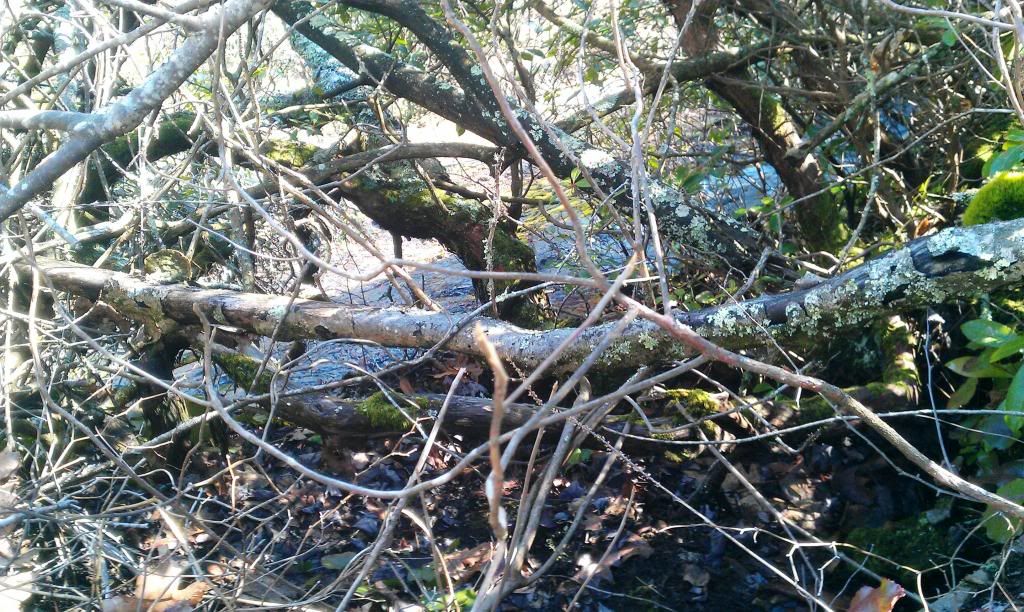 Trail running on the edge of cliffs
After the trail flattened out for a bit we arrived in Bearpen Gap, here we could finally get a look at the climb that was ahead of us. With a close look you could see the fire tower on top of Albert Mtn.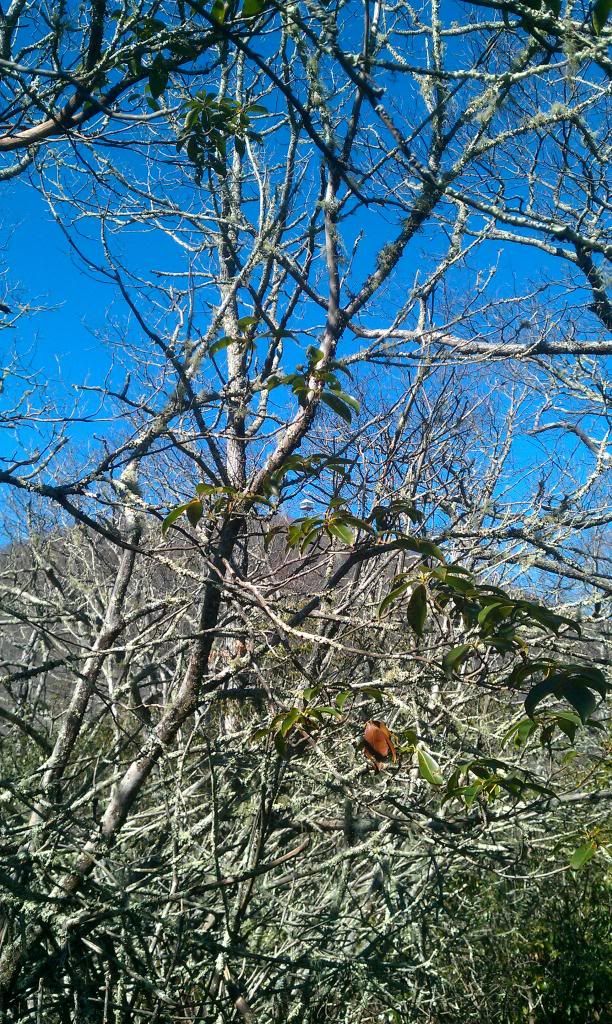 Fire Tower on Albert Mtn
Finally!!..what we had looked forward to all day...the climb up Albert! It looked as tho this would be more of a rock scramble than a hiking trail, and that proved to be true. Here a man can stand flat footed, bend at the waist and bite the ground in front of him. The trail would take us a little over 400ft in just a few tenths of a mile...AWESOME!!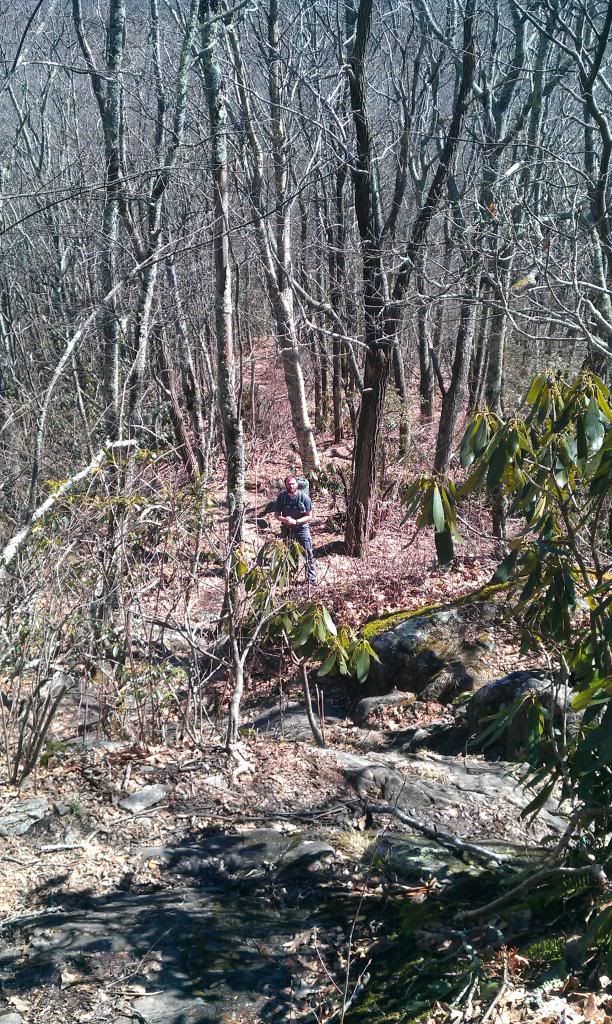 Jason Byers approaches the D.I.F climb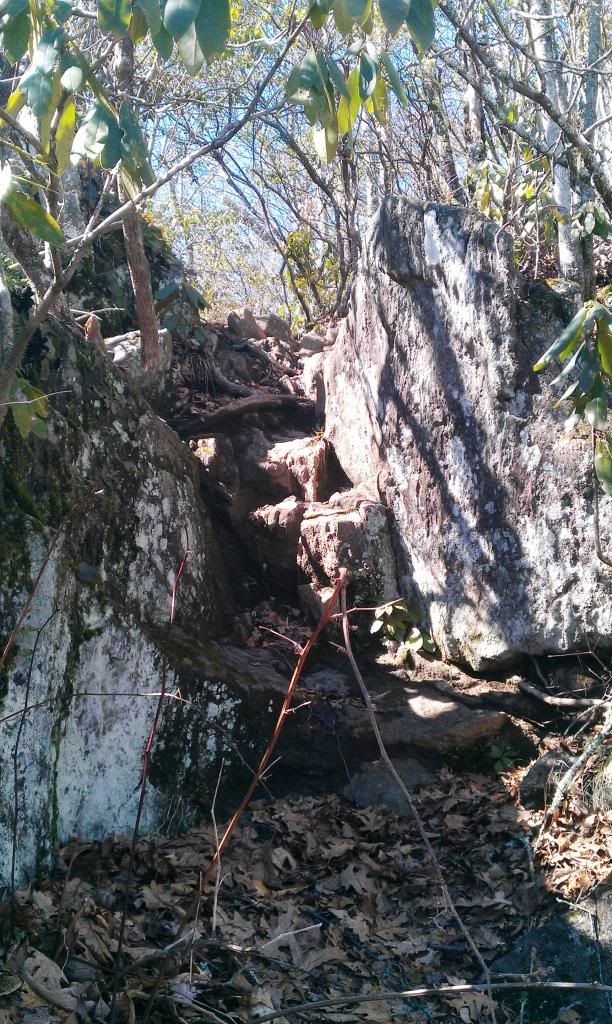 the trail turned into a rock scramble
We arrived on top of Albert to this amazing view!...after all the hoopla, we were so tired from the climb we couldn't remember the name of this very mtn we had just climbed...after nearly hyperventilating from being out of breath and laughing so hard at the fact we forgot the name, I managed to get a video that you will enjoy at my expense.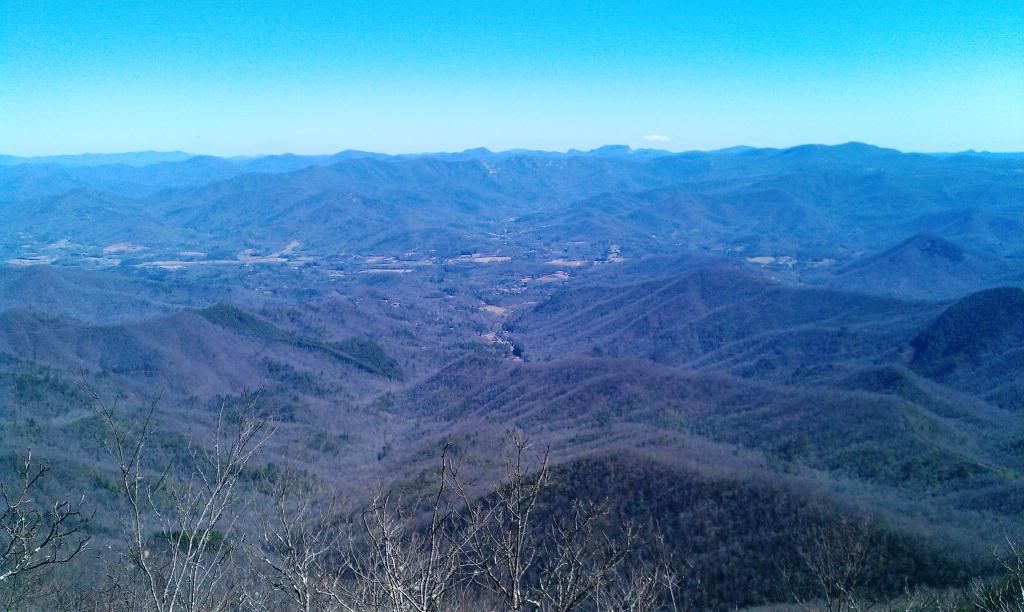 Otto N.C from Albert Mountain
.............and then there was this............
Hiking down from Albert was slow and easy, it was a welcome change after the climb.About a mile down the trail we passed the old Big Spring shelter and this sign, reminding us of where we have been and showing us where were going.
Only 4 miles to go and our minds were drifting to the thought of fajitas at good ol El Cancun in Hiawassee so we put it in high gear past Glassmine Gap and the Long Branch trail intersection.
on the home stretch we stopped in to checkout Rock Gap shelter, It looked to have a little age on it. Trail magic!! Someone left a note and 4 Mountain Dews, Byers and I partook in the destruction of two of them. It was the best Mtn Dew I had tasted in years!!
Finishing up this sign marked the end of this section for us, but also the beginning of the next section.
Looking back on the weekend I was thankful for the break in the weather sat and the magnificent views but also for good friends and the ability to get out and enjoy all things great and small. I encourage you to get out....nor rain ....nor sleet ...nor snow, and enjoy whatever it is you enjoy!
-saw em