Well.....we've tooled around so long its turned cold and Christmas....Actually Thanksgiving, we'll it was, but next week is Christmas---did anybody see Thanksgiving blow thru here?...time...it do fly...but I reckon we all know that don't we!
This month, uh, month and a half there's been some traveling, a lot of eating, some deer hunting and a touch of backpacking. With all the cold and holidays, our big plans for a section hiked turned into a short cold gear test hike. If your not so much on reading you can see a summary of this trip on video
HERE
, also check out
this place, for some serious outdoor education
. anywho....this trip started on
Jacks Knob Trail
, it drops you on the A.T. at Chattahoochee Gap between Unicoi Gap and Hogpen Gap. I guess its worth noting when you get to the gap, LEFT will take you to Blue Mtn Shelter/Unicoi Gap, and RIGHT will take you to Low Gap shelter and Hogpen Gap. Its seems that after a body has been thru there 3 or 4 times they would remember that, but ya know....the outdoors aint for everyone. So, yup...Jacks Knob...LEFT at Chattahoochee Gap..up to Blue Mtn Shelter (hunt,eat,sleep,freeze) and down to Unicoi the next day. Sounds easy enough...leggo.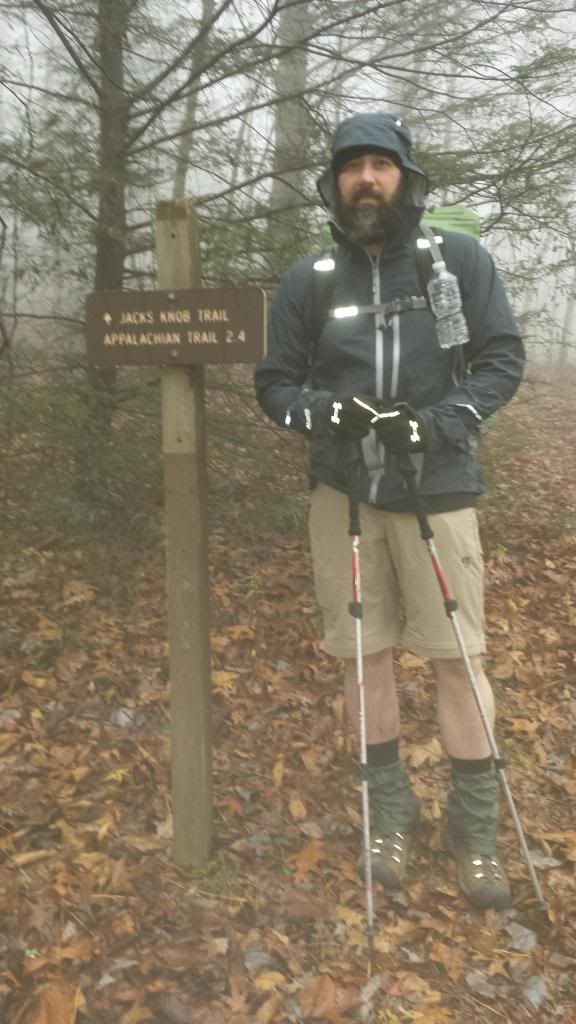 Jacket by Rab, beard by mother nature
Saturday morning was cold and rainy...but hey, I got the weather channel so I was prepared, plus after all these years I finally scored myself some legit rain wear. Picked up this event rain shell
here
for a price us pofolks can afford. Turns out this
Rab Viper Jacket
is crazy breathable, buuuut it also turns out I could probably break a sweat when naked in 20 degree weather....who knew?....well actually I knew, but for some delusional reason I always think, maybe the next "BIG" break thru in breathable material will work for me, boy am I a sucker. I will say I didn't feel like I was wearing a garbage bag tho...BONUS!!
So we hit the trial...we climbed and descended...climbed and descended never seeing more than 20 ft ahead, the fog and mist set in pretty heavy but it was supposed to clear and get colder as the day moved about and it finally did.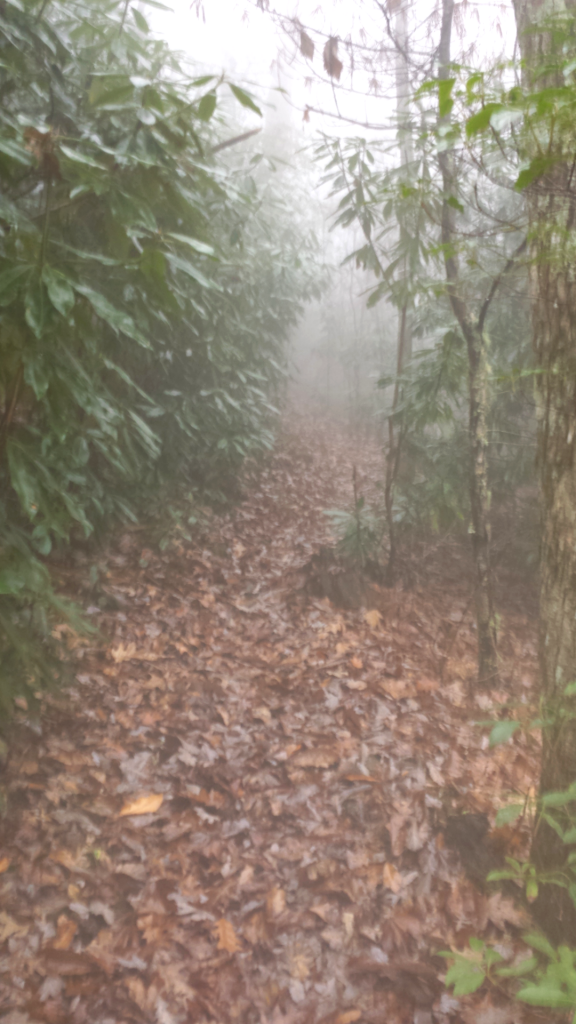 spent most of the day hiking in this
We had counted on getting to the shelter early, so we could hunt for dry firewood and squirrels. I had a large craving for a large bowl of warm, bushy tail stew.
Blue Mountain Shelter
would be our home for the rest of the day and that night, being at around 4000 ft we figured on it being a cold home at that. Firewood was gathered and cut by a dandy little workhorse of saw
+Jason Byers
picked up somewhere. after that we cooked up a little Ramen lunch and lit out on a squirrel hunt.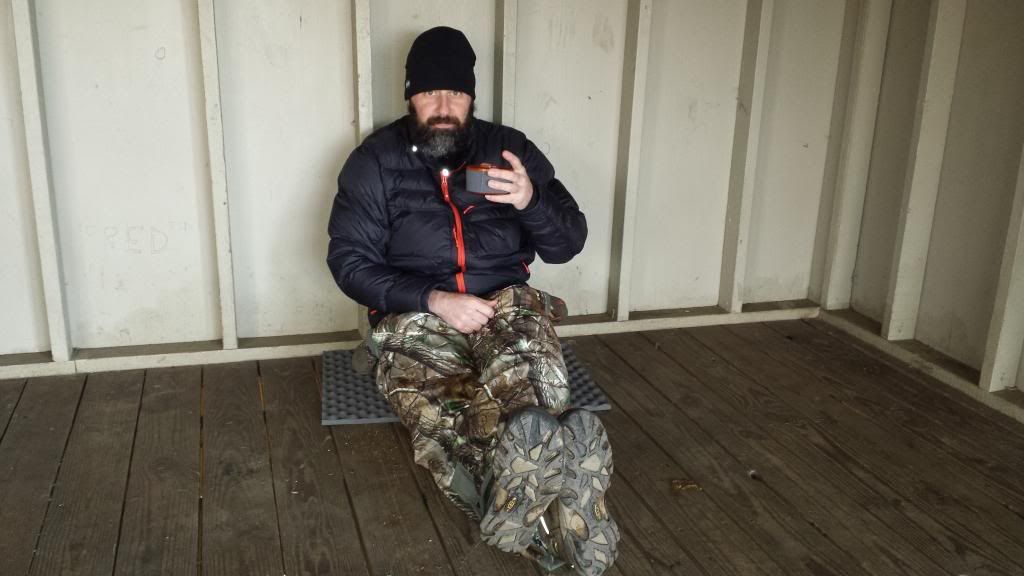 hot coffee, cold day
Now I'll be the first to admit that toting a rifle on a backpacking trip is not my idea of packing smart, but, you can always count on good ol bushman Byers to come up with a good solution. He brought a handy little
AR-7 by Henry Rifles
. Its a small pack able .22 and a strait shootin one to boot.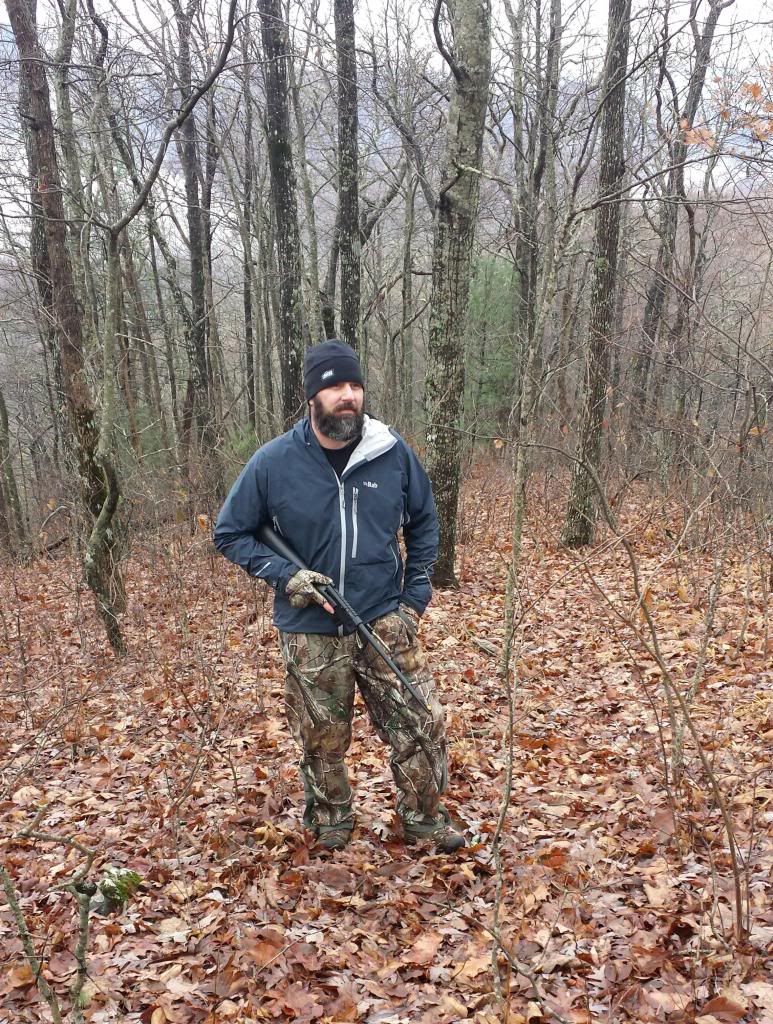 the man...the myth.......the legend
.......well...it turns out that with single digit temps just hours away, the wildlife had better sense than us and stayed holed up in their burrows, so vegetable stew it was. It worked out ok anyhow, we already had the tripod lashed and the vegetables cooking, and I had built up a hunger in my belly from all the wood cutting and "intense hunting", so we didn't have to wait on the meat to cook in before we could eat.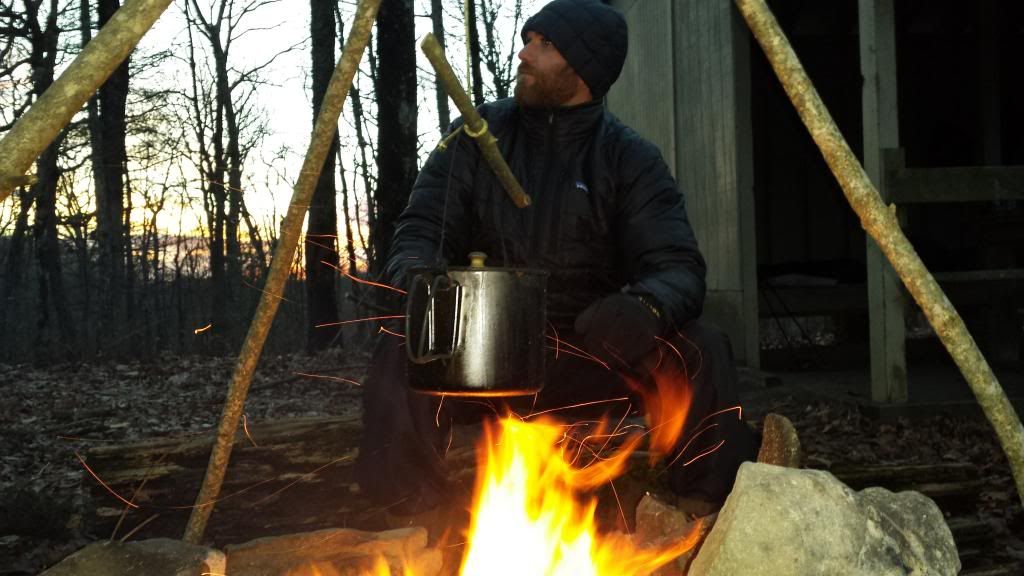 This probably seems like a lot of pictures of stew, but typically we are walking all day, and well, there just wasn't much to do that evening around camp, so your gettin stew pictures....lots of stew pictures.
delicious and nutritious
We did have one interesting visitor tho, this fella was tenting not far from the shelter....he holed up in his tent most of the day, once he smelled the stew he popped out every hour to "talk"...he asked us did we "partake" and I said "do-huh?" Byers got a good chuckle from my reaction, apparently that's hippy/homeless guy code for Im looking to score some free weed. After I realized what he was askin, I replied "that's out"...which is hard working/ law abiding/ tax paying guy code, for I don't have time for your silly
shenanigans
. I reckon all the pot smokers out there wont care for me much after reading this, but if you'll give me about 30 seconds I'll get over it.
It was gettin late and by belly was full so I hit the sack. I'd never really backpacked in temps as low as they would be this night so I was excited and a bit apprehensive about my sleep system, but after seeing Byers set up I felt pretty sure he was gonna freeze to death before me, so I'd be able to use his insulation along with mine and be ok. Ha!...the hike was short so I loaded up for the just in case. I was sleeping on a 3 season pad, with a 40 degree over quilt inside a 20 degree bag. Also I had a 20 degree under quilt just in case. I also slept in a base layer, a down jacket and a some fleece pants. now I know that all sounds ridiculous, but every time I've been up on that ridge the wind blows thru there like its got somewhere to be in a hurry. I figured with the forecast calling for single digits and that kinda wind we might see sub-zero wind chills. turns out despite the cold and all the wind I overheated, no big deal to, i just peeled off a few layers and boom...I was good to go. Better to have then have not.
So the ice cold night gave way to an even colder morning, I slept fairly well, but still prefer the comfort of my hammock over the ground or the floor of a shelter. morning was clear and the sunrise didn't disappoint!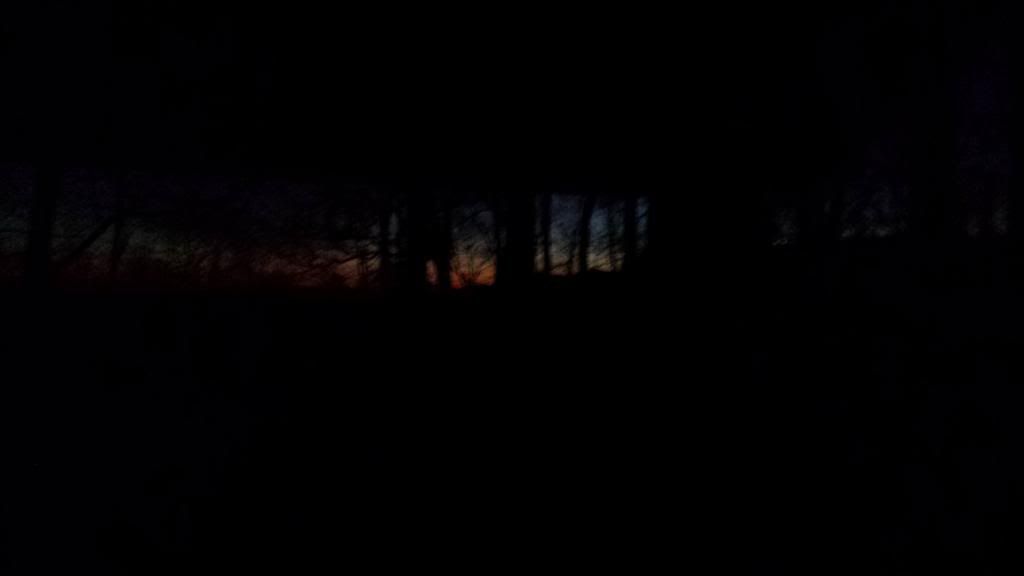 wait for it.....
...wait for it....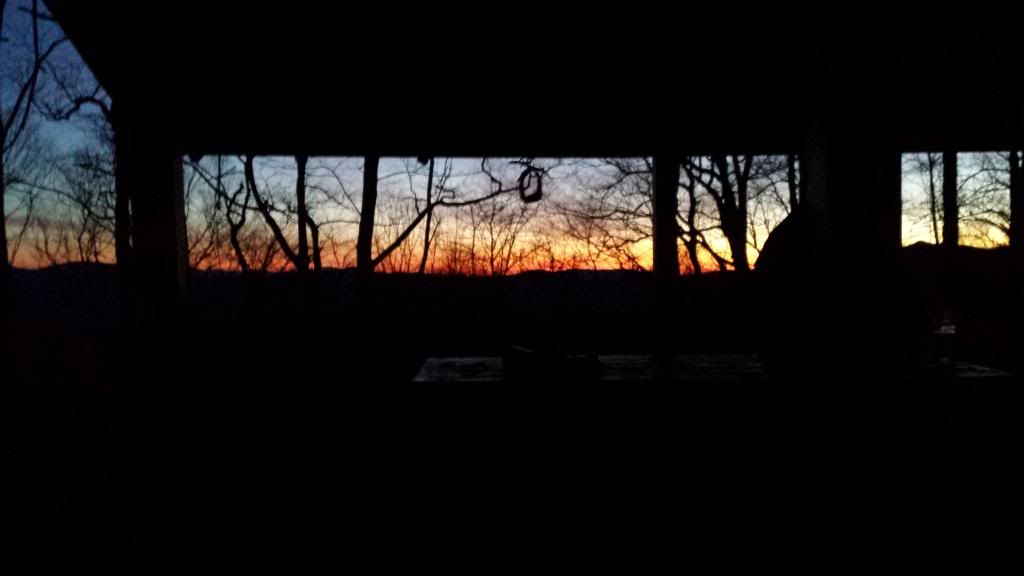 ......................
BOOMMM!....beautiful
After soakin up the sunrise, I realized I had forgot to put my water in the sleeping bag with me and it was froze...the whole liter....solid. Don't reckon it mattered anyway because it was so cold my stove wouldn't put out a flame much bigger than a candle. I did manage to thaw out enough Ice chips to make some luke warm oatmeal that pretty much turned instantly cold after the second bite...it even froze to my beard. bummer. That left only one thing to do, get up and get moving. Anyone who has ever slept out in the cold knows you have to be in your insulation or up and moving, anything in between is almost unbearable. With frozen fingers and toes we packed up and pointed our hats down hill for the hike out, the wind was blistering and the day was beautiful as we descended into Unicoi Gap.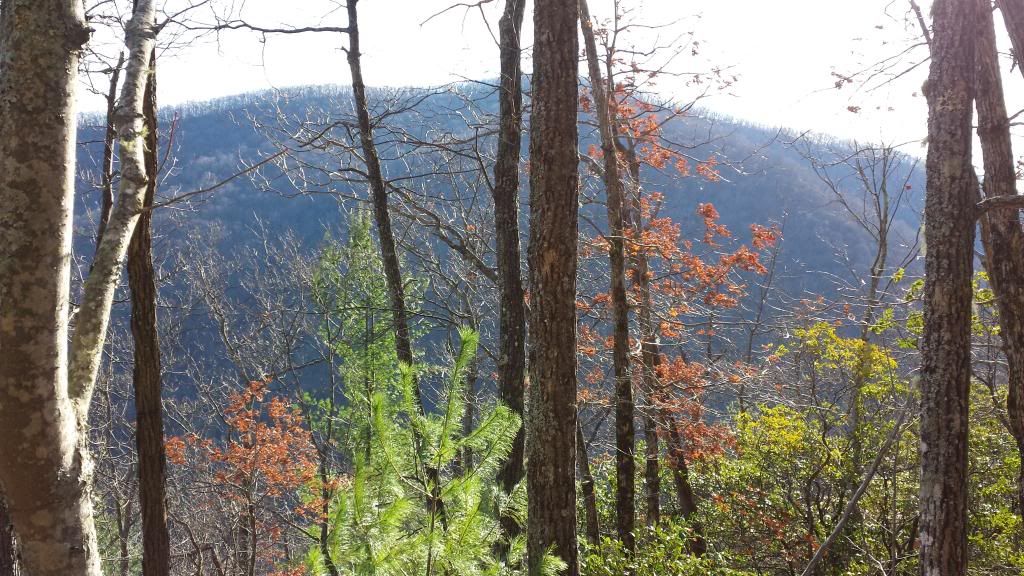 north side of Unicoi Gap
Its been a good year, made some tracks in some areas, and lost some ground in other, met some interesting people and some strange characters. I reckon that's what keeps life interesting. I hope you folks have enjoyed reading about these little adventures, they may not seem like much to some but they sure do make for some good memories, and if nothing else they are good for a chuckle. If your ever interested in joining us for one of these scants shoot me or
+Jason Byers
an email. I don't care if you have climbed Mt. Everest, or never even camped in your backyard, you may teach us a thing or two, or you may learn a thing or two, but I guarantee at the least you'll leave with a funny story to tell. I hope you all have a Merry Christmas, and the best new year ever!....
-saw em