Since the "bike accident" its been a slow process getting back on my feet...I reckon when you put it into perspective it really hasent been so long, but to go from wide open, strait to the recliner for a month it seemed like an eternity! I am however, thankful that I will eventually fully recover and am thankful for some good friends that didn't mind slowing down with me so I could enjoy some less strenuous activities for a while. I'm also thankful for my wife, who with the patients of Job, waited on me hand and foot, bringing me dinner and spit cups, debbie cakes, and helped me in and out of the shower, and most of all listened to me gripe about only being able to squat here on by big butt, all while taking care of the youngins too...she is a saint!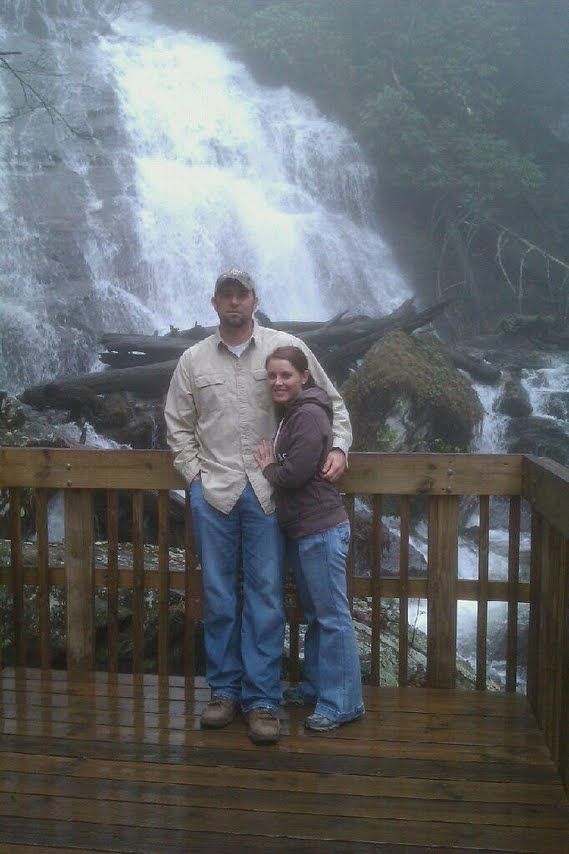 Me and my Home Healthcare Professional..
Thanks Babe!



This little rant it gonna be a two -for....Ill try to go with more pictures and less babbling about if I can. Seemed it my present state, less would be more, so rediscovering a few places right here by the house was the thing to do. Now when I say by the house I mean that in the most literal sense, with the help of a few good ol boys my kayak was loaded up and we made the quick two mile drive to the lake. It was a short and uncomfortable paddle to the little Island we have visited before, but I knew the comfort of my hammock awaited.
Early Oct on Lake Chatuge


We settled in quickly to relax and enjoy the breeze off the lake, I didn't however, enjoy listening to Missouri beat the Dawgs in a key conference game!!!!...but atleast there were great views, and I was out of the house...BONUS!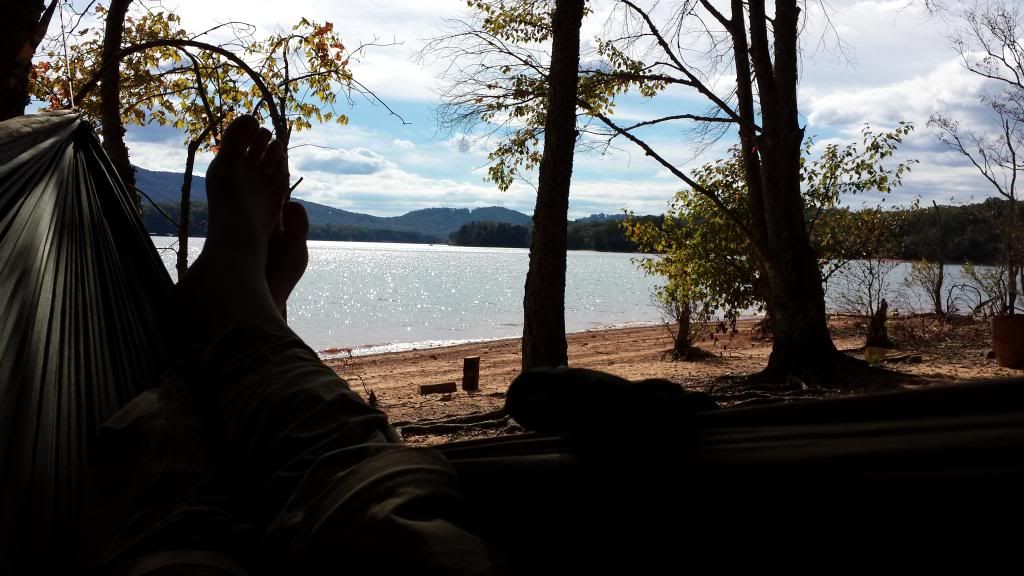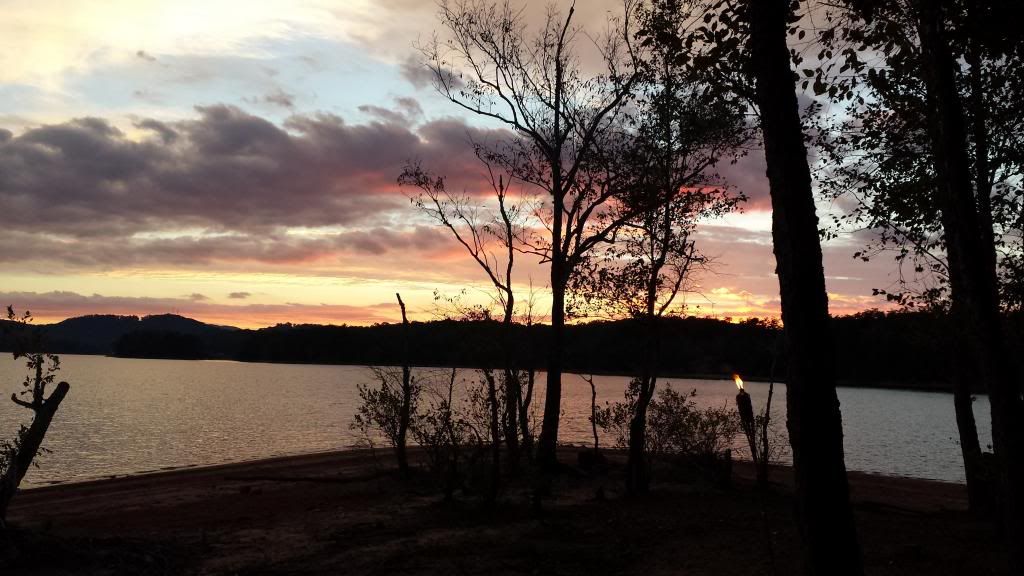 Dusk at Brown Island
This is a great place to camp and relax....seems like it probably gets a lot of summer visitors, there's always a few chairs, tiki torches and firewood someone has left behind. Time was even taken by one bored soul to build a privy back off in the woods.
After a great night sleep, it was early mornin coffee while I sat and watched the sun burn off some of the fog from the lake. The buffet bug hit soon after so we broke camp and made the misty paddle back to the truck just in time to make it to the breakfast buffet at the Georgia Mtn. Restaurant....I ate till I was gut bustin full!!!
.......................before I knew it Oct had turned to Nov and I hadn't hiked a lick. Being more than ready to hit the trail for some time now, we settled on a quick day hike to
Georgias highest peak
via
the Arkaquah Trail
. I've hiked this trail dozens of times...its my favorite trail to hit for some good old lung burning climbs. The Arkaquah Trail is a quick little 7 mile stint that runs from
Trackrock Gap
(2100) to the summit of Brasstown bald (4786') what it lacks in length it makes up for in elevation, Ill leave the math for you, but you'll cover about 75% of the elevation difference in the first mile and a half to two miles.
first icicles of the year
There were still a few fall leaves hanging around under the north ridge, lots of big boulders and cliff overhangs. I had all but forgotten what great winter views this trail offered. Seems like there's always a chance for some wildlife viewing too...I have saw turkey, bear, deer, grouse and during the summer months, several timber rattlers.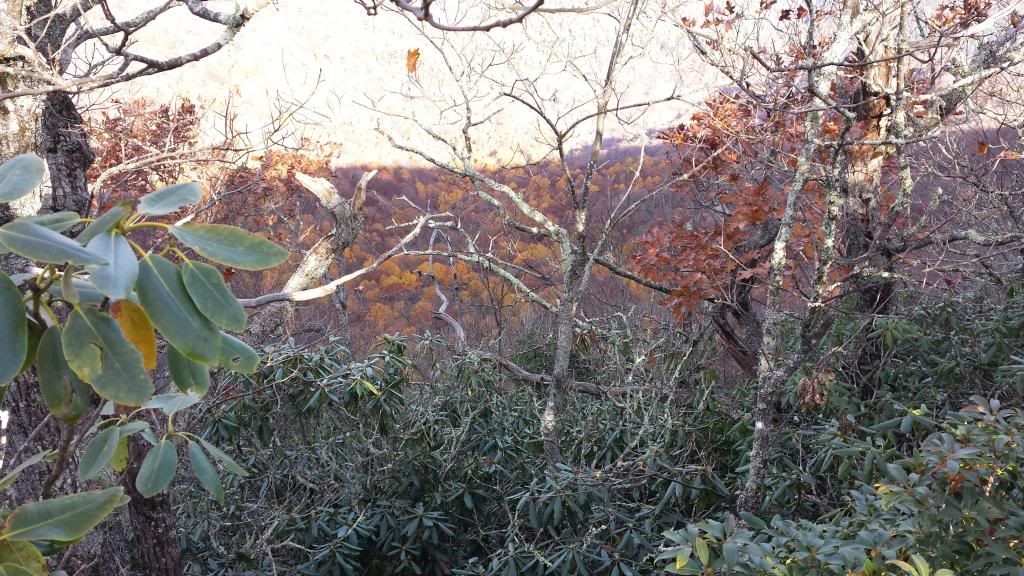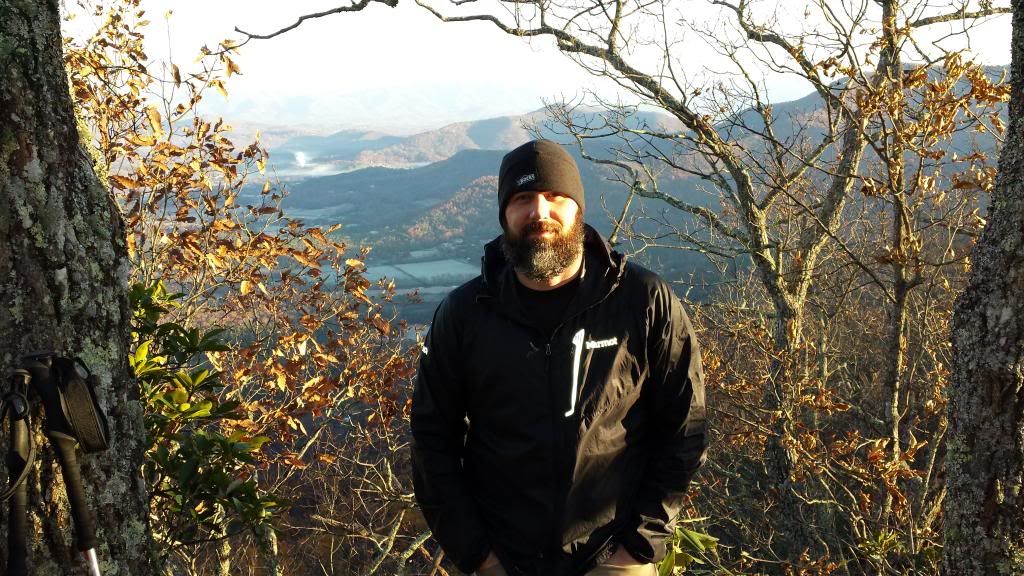 sunrise over Jacksonville
It turned out to be a great day...clear and cool. After reaching the summit at Brasstown Bald we rewarded ourselves with a hot cup of coffee. While I sat on top of that cold Mtn with a warm cup of coffee, I couldn't help but think about how grateful I was for a great family, and a whole bunch of really good friends. I guess you might say I had some "rediscovery during my recovery". I hope you will take the opportunity to rediscover some places.....and just maybe some people too!
-saw em